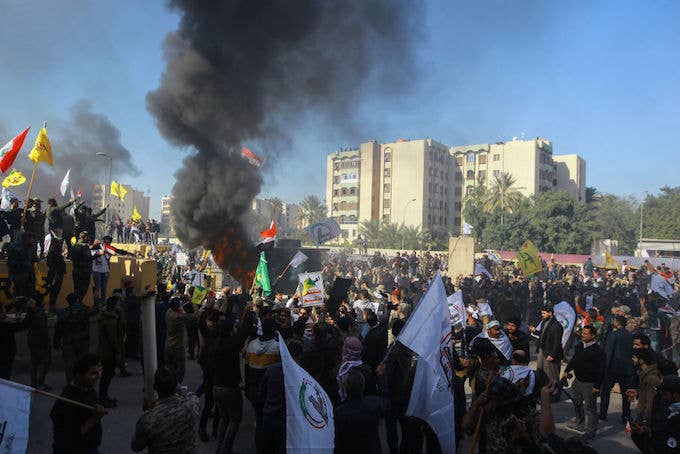 American airstrikes against an Iran-backed militia in Iraq spurred protests, with activists descending upon the U.S. Embassy in Baghdad.
Per CNN, sources said they witnessed an attempted break-in at the location, with security officials reported as having fired tear gas "to repel the attack." Iraq's Popular Mobilization Units (PMU) is said to have inspired the largest amount of protesters.
"We ask everyone to immediately leave these places, and we recall that any aggression or harassment of foreign embassies and representations are an act that will be strictly prohibited by the security forces and will be punished by law with the most severe penalties," Iraqi Prime Minister Adil Abdul Mahd said in a statement.
Footage of the protests in question show some participators setting fires and smashing windows:
Trump, an idiot, claimed the airstrikes were a direct response to the recent death of a U.S. contractor. Furthermore, Trump blamed the strikes (and the contractor's killing) on Iran.
As many as 25 people were killed following the U.S. bombing of Kata'ib Hezbollah-affiliated bases in Iraq and Syria on Sunday.