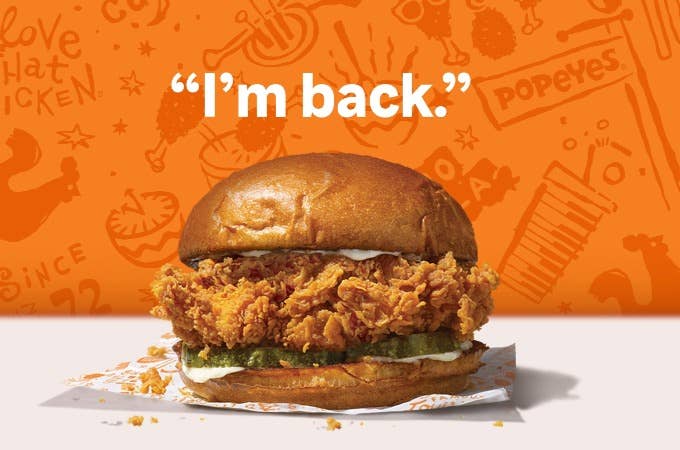 As expected, a wildly popular sandwich of the chicken variety will make its grand return to Popeyes.
Early Monday, the poultry-focused restaurant chain announced that its infamous chicken sandwich would be available again starting Nov. 3. Additionally, the sandwich will now apparently be a full-time menu item, assuming another sell-out doesn't occur like the one that paused the chicken sandwich war months ago.
In a short video announcing the return, Popeyes wisely trolled the rivaling poultry purveyors at Chick-fil-A by pointing out that Nov. 3 is a Sunday, a day on which the recent recipients of a cringey Jesus Is King shout-out have notoriously chosen not to do business for God-related reasons.
Guillermo Perales—chief executive of Sun Holdings Inc., a franchisee that owns a Wall Street Journal-estimated 165 Popeyes locations—said in a statement that training and other procedures have been put in place to meet the expected surge in traffic.
"We're getting trained, ready, and having the systems in place this time for everything," Perales said. "We definitely weren't ready last time."
Among the items inspired by the sandwich's initial sell-out were a Halloween costume, at least one attempted lawsuit, and a joke-y bit of marketing from the restaurant chain in which customers were instructed to bring their own bun to make the sandwich themselves.
"Really it's just three tenders," whoever runs the Popeyes Twitter account ruthlessly joked at the time.