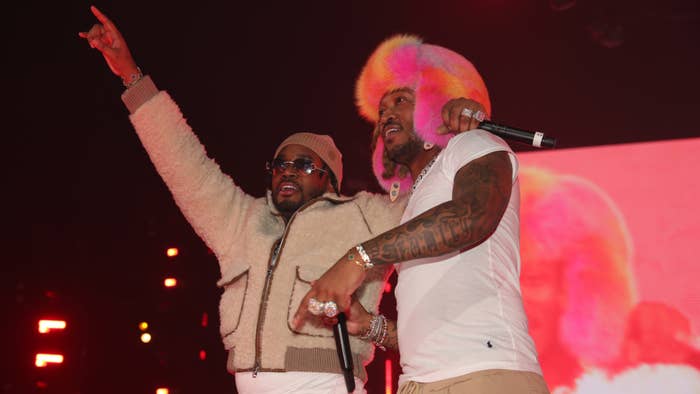 Fivio Foreign says he received some timely "relationship advice" from Future, notably following a headlines-inspiring incident involving dancing and friendship.
As you may or may not have seen across social media in recent days, a clip of Fivio dancing with Asian Doll resulted in a wave of arguable nontroversy. Most prominently, Fivio's girlfriend—Jasmine Giselle—called Fivio out during an Instagram Live session.
"You moving around acting like you single and you're not," she said at one point in the update, as seen here. "That's your problem. You're not single."
In an initial response, Fivio said the world was "demonic" because he couldn't dance with "his friend." In a follow-up message shared on New Year's Eve, he credited Future with that aforementioned relationship advice. This came after Fivio shouted out Future for welcoming him to the stage as a special guest during a performance in Brooklyn.
"Future gave me relationship advice yesterday," Fivio wrote. He did not elaborate on the nature of this advice.
Fivio closed out 2022 by sharing the official video for his latest track "Sicc & Tired," directed by JLShotThat. See the full thing below.
Future, meanwhile, will begin his One Big Party Tour in Houston later this week. The journey sees Future hitting six different cities across the U.S. alongside a stacked assortment of special guests, with each night's lineup providing fans with a unique experience. The tour-launching show in Houston on Jan. 7 is set to see Future being joined on the evening's lineup by Trippie Redd, EST Gee, and more.