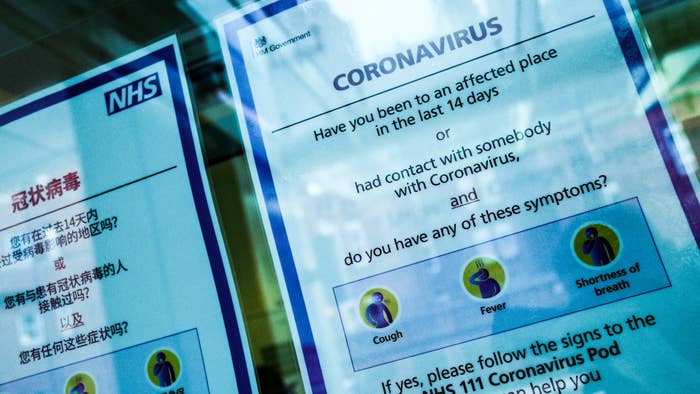 As was surely expected at this point in the ongoing confusion of the novel coronavirus, a number of events ranging from tours to developer conferences have been called off.
Both BTS and recent releaser of Father of All Motherfuckers Green Day announced on Thursday that multiple upcoming international dates on their respective schedules had been ditched.
"We have unfortunately made the difficult decision to postpone our upcoming shows in Asia due to the health and travel concerns with coronavirus," Green Day said in a statement shared to social media. "We know it sucks, as we were looking forward to seeing you all, but hold on to your tickets. We'll be announcing the new dates very soon."
Green Day had shows set for Thailand, South Korea, Hong Kong, and more. BTS had planned to kick off a run of shows in April in Seoul, South Korea. Stormzy, the National Symphony Orchestra, and others have also announced canceled dates.
COVID-19 has also made an impact across the larger pop culture spectrum. In addition to the previously reported production pause on the Italy set of the latest Mission: Impossible sequel, the tech industry has also taken a hit. Facebook's F8 developers conference (set for this May) and their global marketing summit this month have been nixed. The Mobile World Congress, a phone trade show in Barcelona, has also been called off.
Per the Washington Post, the Game Developers Conference has also been hit hard by coronavirus fears, with a number of major industry players choosing to sit this one out. Thursday saw official word from Epic Games and Unreal Engine that they would be withdrawing their attendance due to "uncertainty around health concerns."
EA, Sony, Unity, Microsoft, and Kojima Productions also ultimately decided to pull out of the event.
Beijing and Shanghai fashion weeks, the Chinese Grand Prix, the Geneva Motor Show in Switzerland, a pair of Six Nations rugby matches, and China's annual National People's Congress gathering are among the other high-profile events affected in the way of cancelations or potential reschedulings.
His Holiness the Dalai Lama, meanwhile, has announced that "all engagements" will remain "indefinitely postponed" due to coronavirus concerns.
Miami officials have also reportedly postponed the Ultra Music Festival—a three-day event that was scheduled to kick off March 20 at the city's Bayfront Park. According to NBC 6, Miami Mayor Francis Suarez and other leaders were considering halting the event to prevent a further spread of the virus.
"This event is very unique, because you have people traveling from over 100 countries, according to their website, from around the world, it presents a unique event where there are unique threats, possible threats to the residents of the City of Miami," Suarez said.
Miami officials are expected to make a formal announcement about the festival on Friday.
IBM recently announced it was canceling its annual Think conference in San Francisco amid growing concerns over coronavirus. The tech giant said the conference will be reworked into a digital-first event, and will still take place from May 5-7.
"The health of IBM's clients, employees and partners is our primary concern. In light of global precautions for the COVID-19 Coronavirus, and building upon recommendations from the World Health Organization (WHO), IBM is taking a new approach to its signature events and adopting new travel policies," IBM wrote in a blog post. "... The company has also adopted new travel restrictions through the end of March for the safety of its employees and clients, consistent with travel guidance by the WHO."
Much talk has also been centered on the rumored cancelation of the upcoming 2020 Tokyo Olympics, though the an early response from the local organizing committee, perNPR, suggested otherwise. On March 3, Japan's Olympics minister conceded that the games—set to run July 24 through Aug. 9, will take place this year but could move to a later date. "We are doing all we can to ensure that the Games go ahead as planned," said Seiko Hashimoto.
"Tokyo 2020 will continue to collaborate with all relevant organisations which carefully monitor any incidence of infectious diseases and will review any countermeasures that may be necessary with all relevant organisations," the local organizing committee said Thursday. "The rest is speculation."
According to the BBC, Japan Prime Minister Shinzo Abe said the Games will go ahead as planned in July.
"We will overcome the spread of the infection and host the Olympics without problem, as planned," Abe said.
On Friday, March 6, it was announced that Seattle's Emerald City Comic Con will be postponed due to the spread of the virus. The event, which was supposed to go down from March 12th–15th at the Washington State Convention Center, is now scheduled to take place on Aug. 21 to Aug. 23 in the summer.
"We have been closely monitoring the situation around the COVID-19 virus in Seattle, and, after many hours of conversation internally and consultation with local government officials and the tourism bureau, we have decided to move next week's Emerald City Comic Con to Summer 2020 with date and detail announcement forthcoming," organizers wrote in a statement. "We did everything that we could to run the event as planned, but ultimately, we are following the guidance of the local public health officials indicating that conventions should now be postponed."
On March 11, E3 2020 announced it was postponing the game expo to a later date. According to a tweet from E3's official Twitter account, the decision was "not reached lightly." The event was supposed to take place from June 9 to June 11.
On March 16, the Metropolitan Museum of Art announced its annual Met Gala is canceled this year. It was scheduled for May 4. The museum itself is closed and will remain so through April 4. 
On March 19, the Cannes Film Festival officially announced that it's being postponed. According to an official statement, the festival is eyeing late June as a possible replacement date. 

"At this time of global health crisis, our thoughts go to the victims of the Covid-19 and we express our solidarity with all of those who are fighting the disease," the festival said in the statement.
"As soon as the development of the French and international health situation will allow us to assess the real possibility, we will make our decision known, in accordance with our ongoing consultation with the French Government and Cannes' City Hall, as well as with the Festival's board members, film industry professionals and all the partners of the event," it added.
Anyway, please wash your hands and whatnot. And for the latest word from the CDC, click here.