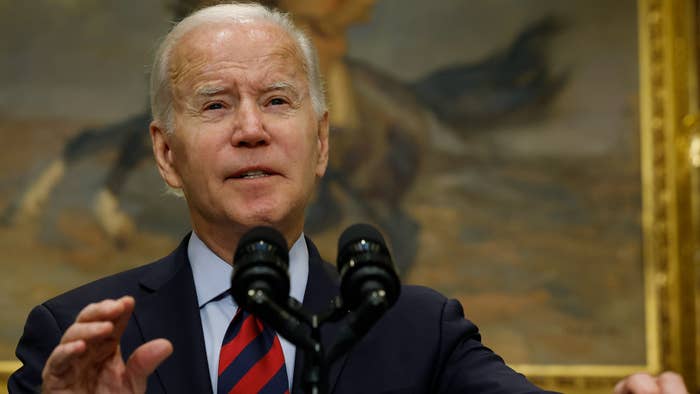 President Joe Biden has issued a statement denouncing anti-Semitism, just one day after the artist formerly known as Kanye West expressed admiration for Nazi leader Adolf Hitler and shared a swastika to Twitter.
"I just want to make a few things clear," Biden said in a tweet on Friday, as seen below. "The Holocaust happened. Hitler was a demonic figure. And instead of giving it a platform, our political leaders should be calling out and rejecting antisemitism wherever it hides. Silence is complicity."
This isn't the first time Biden has spoken out in response to the recent resurgence of anti-Semitism in the U.S. In October, for example, the president marked the four-year anniversary of the mass shooting at the Tree of Life synagogue in Pittsburgh by pointing out the disturbing increase in such violence.
"As we grieve this deadliest act of antisemitism in American history, we stand with the community of Squirrel Hill—and Jewish communities across America and around the world—in resolving to combat antisemitism and hate in all of its forms," Biden said at the time. "This is especially true as we witness an ugly increase in antisemitism in America."
As for Ye, his Twitter account has since been suspended, with Elon Musk saying this was done due to his "incitement to violence."
The Holocaust saw an estimated six million Jewish men, women, and children murdered at the hands of Hitler's Nazi regime. In addition to certain segments of the far-right's present-day embrace of Holocaust deniers, figures associated with such ideology have also, with no accuracy, attempted to compare pandemic policies to the genocide.