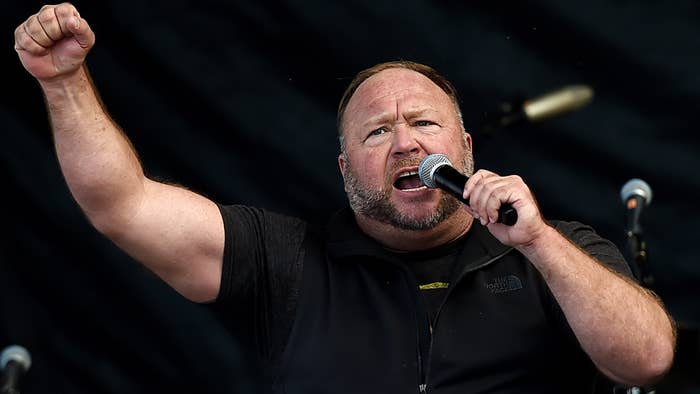 Infowars, the far-right conspiratorial outlet founded by Alex Jones, has filed for bankruptcy.
A court filing in Texas on Sunday saw the Jones-fronted entity seeking Chapter 11 bankruptcy protection, per a report from the Associated Press. According to the filing, Infowars is claiming that it has approximate assets of $50,000 or less, with estimated liabilities listed at between $1 million and $10 million. Among the creditors listed, per AP, are relatives of some of those killed in the Sandy Hook Elementary School shooting in 2012.
Recent Jones-focused headlines have dealt with the ongoing legal fallout brought on by the far-right figure's previously shared fabrications positing the shooting as a hoax. In March, the Connecticut Law Tribunerevealed Jones had offered a settlement to plaintiffs in connection with one of several lawsuits spurred by his remarks. The offer was rejected and criticized by plaintiffs as a "transparent and desperate" effort at avoiding "a public reckoning."
As noted amid Monday's developments, this weekend's bankruptcy filing would see civil litigation being placed on hold. Also cited in the new filing are other associated holding companies. Jones, meanwhile, has has been determined to be liable in defamation cases in Connecticut and Texas. A Texas case, as detailed in a separate NPR report, is slated to begin its jury selection process this month. 
On Dec. 14, 2012, 20-year-old Adam Lanza fatally shot 26 people at Sandy Hook Elementary School in Newtown. Of the victims, 20 were children and six were members of the school's staff. Lanza later died by suicide. By March of 2019, per an AP-cited deposition, Jones had blamed his Sandy Hook claims on "psychosis."
In response to the latest Jones development, Newtown Action Alliance—a grassroots organization formed in the wake of the Sandy Hook mass shooting—said the filing marked a "shameful attempt" from the Infowars founder at having litigation paused.
Prior to news of the Chapter 11 filing, Bloomberg said in a report shared Sunday morning that multiple companies owned by Jones had been receiving advice from "restructuring advisers" in recent days.
Complex has reached out to Jones' lawyer for additional comment. This story may be updated.