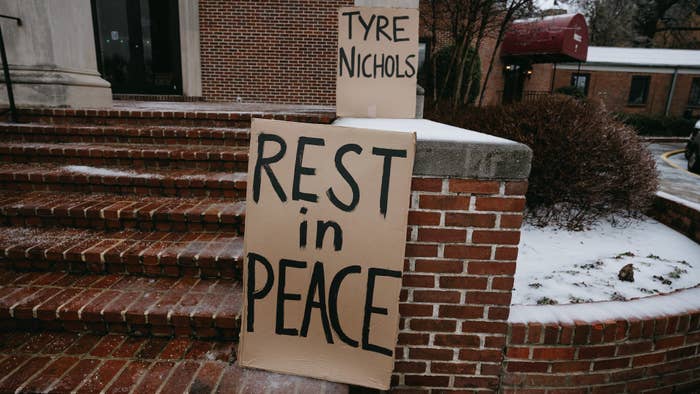 Tyre Nichols' family has filed an appeal to the United Nations to seek justice for the 29-year-old's death at the hands of police, and to generally address police violence in the U.S.
The letter to the UN, obtained by the Independent, reads, "The family of Tyre Nichols and his legal representatives are appealing to the United Nations Office of the High Commission for Human Rights to request urgent action regarding the torture and extrajudicial killing of Tyre Nichols."
Signees include Nichols' mother RowVaughn Wells, the family's lawyers Benjamin Crump and Antonio Romanucci, and Judge Peter Herbert OBE, Chair of the Society of Black Lawyers in the UK.
"The United States of America's failure to appropriately respond to and address police violence and extrajudicial killings of persons of African descent constitutes an abridgement of their human rights," the letter continues.
Nichols was severely beaten by several Memphis police officers on Jan. 7 and succumbed to his injuries three days later. Footage of the tragic incident circulated online, and subsequently five officers were arrested and charged with second-degree murder. These five—Tadarrius Bean, Demetrius Haley, Emmitt Martin III, Desmond Mills Jr., and Justin Smith—are Black. A sixth officer, Preston Hemphill, who is white, was relieved of duty but hasn't been charged. He's also being investigated for his role in the attack. Additionally, a seventh officer was involved but hasn't yet been named.
The Nichols' letter to the UN encompasses 11 demands, including urging the Memphis Police Department to share the identity of the seventh officer, enforcing all law enforcement to wear body cameras, and pushing for video footage and audio recordings to be released following police killings.
On Friday, Yvonne Mokgoro, Chairperson to the UN Human Rights Council, also addressed police violence following the devastating deaths of Nichols and Keenan Anderson.
"The brutal deaths of Keenan Anderson and Tyre Nichols are more reminders of the urgency to act," Mokgoro said. "We will engage with the Government and all relevant stakeholders to ensure that police brutality is addressed with determination and that victims and their families obtain justice."