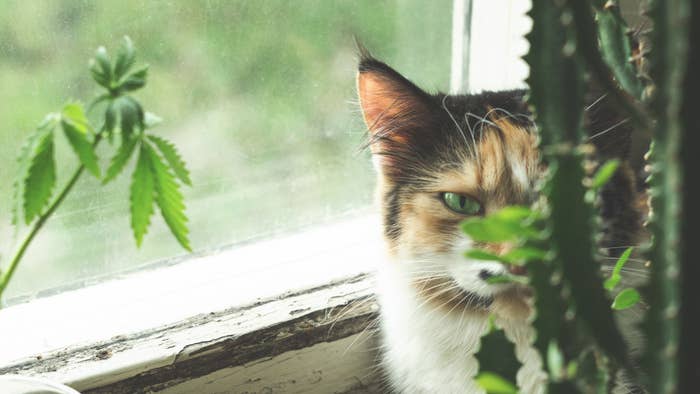 A new study shows that more pets have experienced cannabis poisoning in Canada since legalization. 
A survey of 200 North American veterinarians (including 191 Canadian vets) conducted by the Ontario Veterinary College says mosts vets have seen an increase in toxicosis cases since 2018, according to the University of Guelph.
"Those symptoms basically ranged from urinary incontinence, with the pet peeing everywhere, to ataxia, which is movement-related issues, to hyperesthesia where they're showing increased sensitivity to all of the senses and any stimulation of those senses," said lead researcher Dr. Jibran Khokhar to Global News.
While dogs and cats ranked first and second most common animals that get into their owner's stash respectively, apparently all kinds of critters are greening out, including ferrets, cockatoos, iguanas, and even horses according to Khokhar. 
Fortunately, most of the cases were mild and the pets who made the rookie mistake of saying "This edible ain't shit" got over their symptoms in about 24 hours. However, 16 of the reported cases resulted in death. 
"That's a relatively small proportion and it could be related to other additives like chocolate or xylitol that might have been in the cannabis edible," said Khokhar. "But if the pets are consuming an edible, you have to be concerned about both the cannabis in it, but then also those other ingredients."
Khokhar also said that he's unsure if these numbers are rising specifically because weed is easier to access, or if pet owners are more willing to be honest with their vets now that it's legal. 
The purpose of the study was to better understand what a stoned pet's symptoms may look like, so that treatments can be developed to reverse toxicosis and decrease the length of symptoms. Taking a trip to the vet because your furry friend can't handle their weed can be pricey, which is reason enough to keep your animals away from your greens.