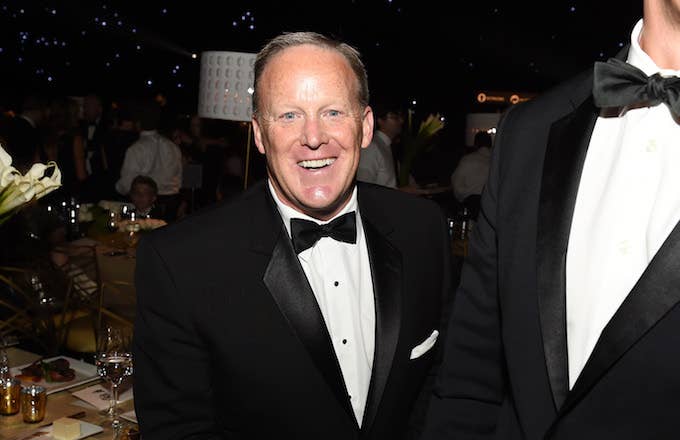 On a segment of Fox Business Network's Mornings with Maria, former Press Secretary Sean Spicer had an odd response to a question regarding statements made by Tom Hanks.
Tom Hanks has become the most recent celebrity who has spoken out against the Trump administration by saying that he would not want his new movie, The Post, to be screened at the White House. Hanks' movie deals with the Nixon administration's efforts to silence journalists from the New York Times from publishing negative articles. "Right now, without a doubt, there are people in power trying to — if not quash or stop the right to publication, [then at least] denigrate it to the point [where] they are saying there is no truth to it whatsoever," Hanks told The Hollywood Reporter. When asked if Hanks would attend a screening of The Post at the White House, Hanks replied, "I don't think I would."
When prompted to respond to Hanks' comments, Spicer said, "If President Obama called me today and said 'hey come mow my lawn,' I'd do it because I think that there's something that we all should come together as Americans and want to support our leaders..."
Uh, what? The tail end of Spicer's comment made enough objective sense, but the part about mowing Obama's lawn is a bit of a mystery. 
Hanks elaborated as to why he would not attend the White House by saying, "I would not have been able to imagine that we would be living in a country where neo-Nazis are doing torchlight parades in Charlottesville and jokes about Pocahontas are being made in front of the Navajo code talkers. And individually we have to decide when we take to the ramparts."