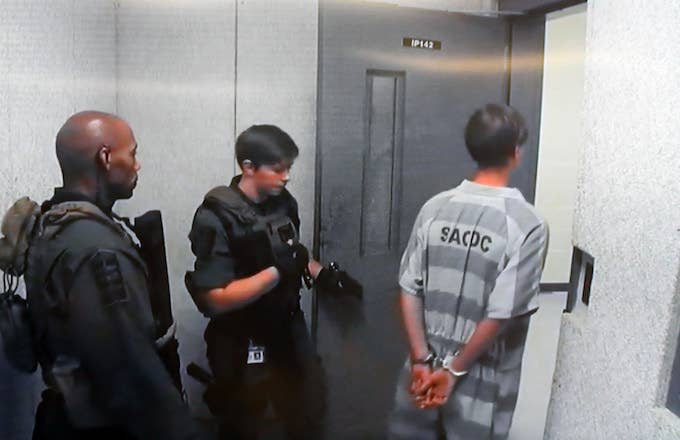 Back in 2015, "self-declared white supremacist" Dylann Roof shot and killed nine people in a black church in Charleston, South Carolina. Roof was 22. He was found guilty on 33 federal counts and sentenced to death for his crimes last year. Now, his younger sister, 18-year-old Morgan Roof, has been arrested on charges of possessing weapons and marijuana.
Morgan was taken into custody on Wednesday, the day of the National Student Walkout against gun violence in honor of those slain in the Marjory Stoneman Douglas massacre. She was charged with possession of a knife, pepper spray, and marijuana. She also posted a message of racial hate to Snapchat. 
Morgan has been released on a $5,000 bond but is prohibited from returning to school. Like her older brother, Megan has a documented history of racist beliefs. The teen took to Snapchat to rant about the walkout. "Your [sic] walking out for the allowed time of 17 min, they are letting you do this, nothing is gonna change what TF you think it's gonna do? I hope it's a trap and y'all get shot," she said. "We know it's fixing to be nothing but black people walkin out anyway." I guess one shouldn't be surprised that a racist doesn't know the difference between your and you're, but I digress.
The incident is alarming for a number reasons, perhaps not the least worrying of which is Morgan's school's response. The principal of AC Flora High School in Columbia, South Carolina said in a statement that "the posting was not a threat, but was extremely inappropriate. The student was dealt with in a swift and severe manner as the posting caused quite a disruption."
I don't want to be the one to point out that water is wet, but I'd say the post was pretty menacing. And if we've learned anything from Parkland, it's that expelling a student doesn't prevent them from showing up to kill 17 of their former classmates.
Even more disturbing, Morgan's behavior wasn't the only suspicious activity at AC Flora High School that police had to deal with on Wednesday. In one instance, they responded to an ultimately untrue rumor of a student possessing a weapon, and in another, they confiscated an unloaded weapon.