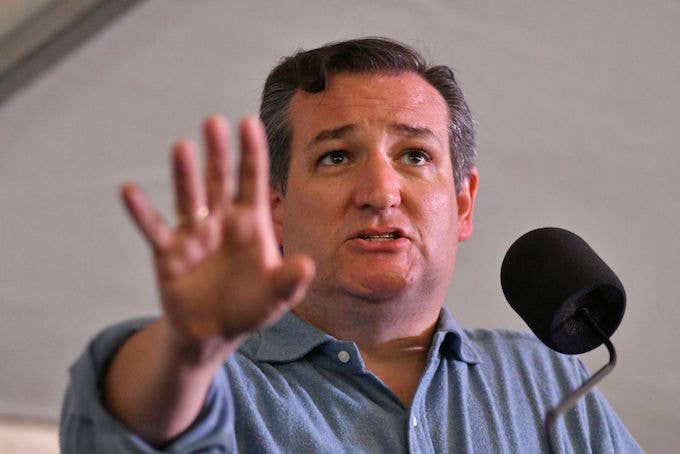 Texas lawmakers Louie Gohmert and Ted Cruz both fell short on promises they made to give away their donations from white supremacist Earl Holt, who leads a group that inspired Charleston church shooter Dylan Roof. Nearly two dozen Republicans promised to donate money from the leader to various charitable causes, and Gohmert and Cruz are the only ones who didn't follow through on their promise, according toThinkProgress.
After the shooting at Emanuel African Methodist Episcopal Church, Roof cited Holt's website for the Council of Conservative Citizens as the root of his racist ideas, writing in an online manifesto that he searched "black on white crime" to get there. "There were pages upon pages of these brutal black on White[sic] murders. I was in disbelief. At this moment I realized that something was very wrong," Roof wrote. In response, Gohmert preached to thousands of worshippers at his home church in Tyler, Texas that it was a "dangerous time" for the country. He added in a later press statement he'd double the contributions from Holt to his campaign and donated the amount to the victims of the shooting. "The $750 contribution to my campaign fund and the $500 given to my PAC from a man that the Charleston shooter apparently says inspired him is being given to the Charleston church of our deceased brothers and sisters," the statement said. "In fact, I am doubling those two amounts and donating those to our sister church where the victims were members so that they may best apply the money to what is needed right there where they gave their lives in prayer." The statement was made with the best intentions, but it seems the congressman never donated, to the church nor any church or organization in South Carolina.
The church's pastor, Rev. Eric Manning, said neither the representative nor his campaign PAC appears on the donation list, but said they have not yet finished compiling the names of those who donated between October 2015 and January 2016. "We could realistically neither confirm nor deny that we have [the donation], just because we're still processing through the sheer volume of all the correspondence we have," Manning said.
Sen. Ted Cruz, on the other hand, promised $11,000 but ended up only donating $8,700 and returned the remainder of the money to Holt. His office initially told The Guardian they would be returning a handful of donations, but they later decided to put the full $11,000 towards the Mother Emanuel Hope Fund. "He decided that the best use of that money would not be to return it but instead use it to help support the families of victims from the Charleston shooting," the spokesperson said. An internal memo would later reveal they received $2,300 more than they originally noted. Public campaign filings would reveal that additional amount was made to the general election, and upon losing it had to be returned to its donor.
"[T]he $2,300 you are asking about had to be refunded because it was an amount made out to the general election," Cruz spokesperson Catherine Frazier said in an email to ThinkProgress. "We returned all general election money as required. The remainder all went to Mother Emanuel."