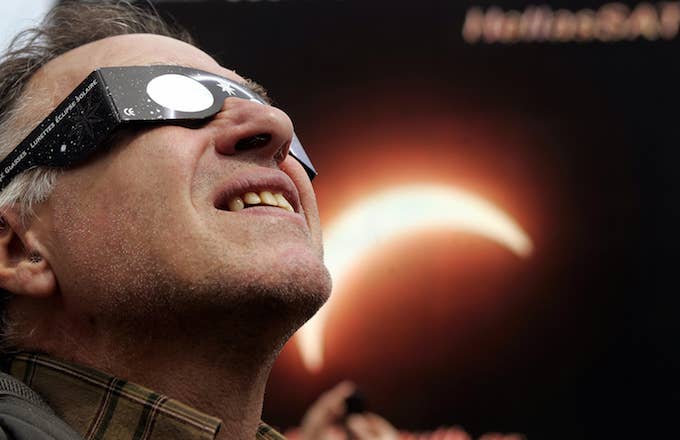 Of all the ways you could watch next week's total solar eclipse, getting super (legally) high in Oregon sounds like a pretty top-notch way to go. Oregon is actually one of the best places to be to watch this eclipse, as the eclipse's line of totality will go from Lincoln Beach, Oregon to Charleston, South Carolina. However, so many people had that same idea that the state is almost running out of weed to sell ahead of the rare event on August 21.
Oregon is expecting as many as one million people to visit the state to see the eclipse, but they're not just going for the hell of it: imagine seeing the moon totally block the sun for a few moments while you're extremely high. This sounds like an extremely good way to spend some time off from the literal Nazis in this country, but local dispensaries in the state of Oregon are envisioning some issues.
"Tourism already to Oregon, plus an eclipse, is doubling up. And that means customers are doubling in our doors," Mike Drevecky, a budtender at the Little Amsterdam Wellness Center in Portland, Oregon, told The News Review. "I mean, we're swamped this morning alone."
Additionally, a dispensary in John Day has had to turn away recreational marijuana buyers in order to prioritize stock for those who need marijuana for medical reasons. "It's a bummer," budtender Danny Kidd from the Rocky Mountain Dispensary said. (Also, can we talk about how budtender is the coolest job title ever?)
According to WWTV Fox 13, a dispensary called Hotbox Farms located in Huntington claims it is expecting up to 10,000 customers or more ahead of the solar eclipse despite Huntington being a small railway town that boasts a population of just 440 people. Steven Meland, the owner of Hotbox Farms, says they're going all out to try to keep up with the demand. His 21 employees will be working around the clock for five days prior to the eclipse.
"We have guys out around the state compiling product and purchasing product to make sure we have enough of the different product for people and we don't run out," Meland said.
The demand might be attributed to creative eclipse-seekers, but some companies have helped further drive tourism to the marijuana-friendly state. A weed-tourism company named High 5 Tours is selling a three day all-inclusive camping trip "Stoner Eclipse Adventure" priced at $750-$1995 per person. A dispensary in the city of Milwaukie called Oregon's Finest is selling a special variety called Moon Puppies and will give out protective solar eclipse glasses, according to Business Insider.