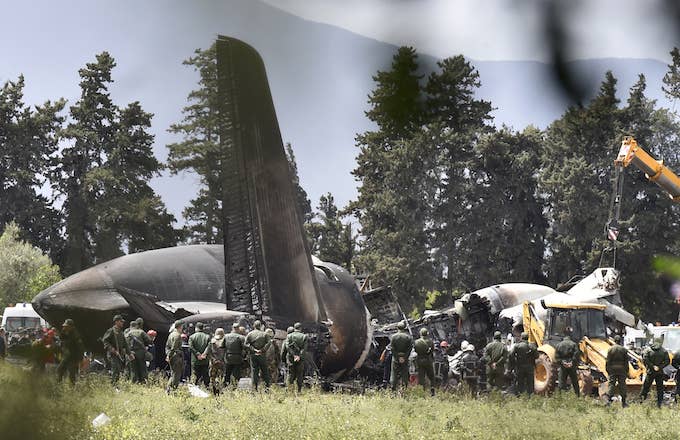 An Algerian military transport plane filled with soldiers and civilians crashed near the country's capital today, leaving at least 257 people dead. The New York Times calls it one of the deadliest accidents involving an aircraft in the country in recent years. The cause of the crash remains unclear and is currently under investigation, per the Defense Ministry.
"The number of martyrs has risen to 247 passengers and 10 members of the crew, most of whom are members of the army as well as their families," the Defense Ministry said in a statement.
The Russian-built transporter Ilyushin Il-76 fell in a field shortly after it took off from a military base in Boufarik, which is about 15 miles southwest of the capital, Algiers. As ambulances and emergency workers rushed to the scene, strong winds exacerbated a fire that encompassed the wreckage, according to a security official named Lt. Adel Zghaimi.
Several witnesses spoke to Ennahar TV and reported seeing flames coming from one of the plane's engines as it was taking off. After it was in the air, it lurched and then eventually crashed on one of its wings.
A Defense Ministry official said that at least two people survived the crash and were in the hospital. By contrast, one Algerian television station, TV Dzair, claimed five people were receiving medical treatment. As the Washington Post notes, it is unclear whether those five people were on the plane or had been injured near the crash site.
President Abdelaziz Bouteflika has declared three days of morning, according to state media.