Former Proud Boys Leader Enrique Tarrio Convicted in Capitol Riot Case
Tarrio and three other members of the far-right group were found guilty of seditious conspiracy, a charge that could result in up to 20 years in prison.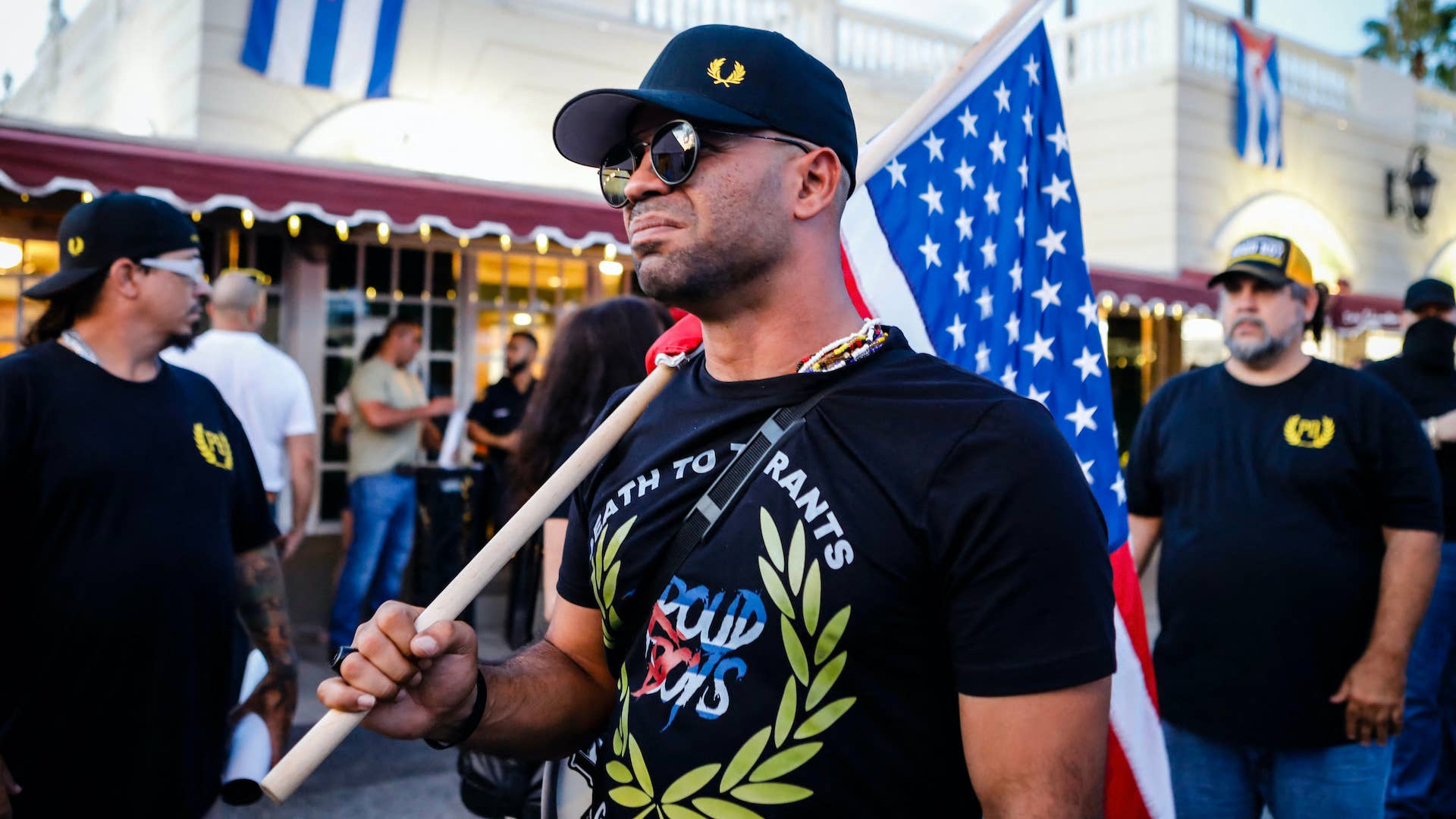 Getty
Image via Getty/Eva Marie Uzcategui Trinkl/AFP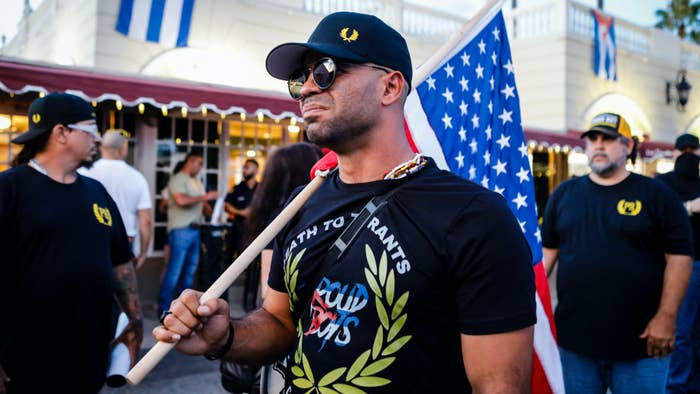 A former Proud Boys leader faces decades behind bars for his role in the U.S. Capitol riots.
According to the Associated Press, Enrique Tarrio was convicted Thursday of co-orchestrating a plot to stop the certification of the 2020 presidential election results. Prosecutors say the Florida man and members of his far-right extremist group had exchanged a series of text and Signal messages in which they discussed occupying "crucial buildings" in Washington, D.C.
The Proud Boys were among the neo-fascist organizations that stormed the U.S. Capitol on Jan. 6, 2021, shortly after outgoing president Donald Trump urged his supporters to march to Capitol Hill to make their voices heard.
Tarrio and three other Proud Boys members—Joseph Biggs, Ethan Nordean, and Zachary Rehl—were found guilty of seditious conspiracy, a charge that carries a 20-year maximum prison sentence. They were also found guilty of obstruction of an official proceeding, conspiracy to prevent Congress and federal law enforcement from their duties, and destruction of government property. A fifth defendant, Dominic Pezzola, was found not guilty of seditious conspiracy but was convicted of the other charges.
Unlike his co-defendants, Tarrio wasn't at the U.S. Capitol on the day of the attack, as he was arrested several days earlier for allegedly burning a Black Lives Matter sign at a D.C. church. Although Tarrio was ordered to stay outside the city, prosecutors said he played a key role in the Jan. 6 insurrection and even went so far as to take credit for his group's involvement. 
"Make no mistake. We did this," he wrote in an encrypted group chat, just 11 minutes after rioters stormed the Capitol.
Defense attorneys argued the Proud Boys were mostly peaceful on Jan. 6 and had no plans to breach the building.
"It was Donald Trump's words. It was his motivation," attorney Nayib Hassan said during the closing arguments. "It was his anger that caused what occurred on January 6th in your beautiful and amazing city. It was not Enrique Tarrio. They want to use Enrique Tarrio as a scapegoat for Donald J. Trump and those in power."
The convictions came more than five months after Oath Keepers leader Stewart Rhodes and member Kelly Meggs were found guilty of seditious conspiracy in connection to the Jan. 6 riots. Their sentencing hearings are scheduled for this month.