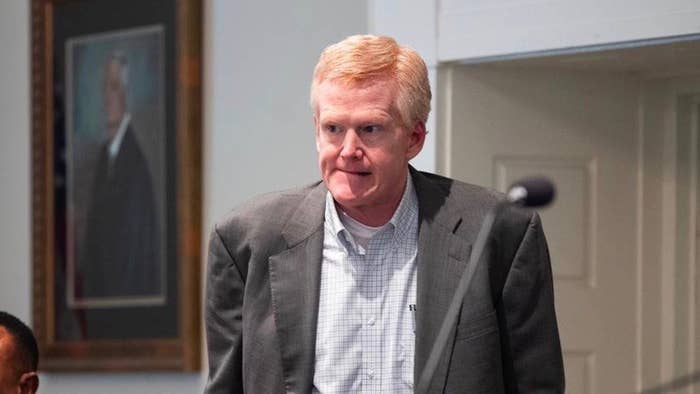 Alex Murdaugh has been convicted in the murders of his wife and son.
A panel of 12 jurors reached the verdict Thursday after a six-week trial that included testimonies from more than 70 witnesses. CNN reports the jury deliberated for less than three hours, and ultimately found the defendant guilty of two counts of murder and two counts of possession of a weapon during the commission of a violent crime.
The disgraced attorney was accused of fatally shooting his 22-year-old son, Paul, and his 52-year-old wife, Maggie, in South Carolina in June 2021. Prosecutors said they believed Murdaugh committed the murders in an attempt to distract from his series of financial scandals, including years-long allegations of fraud.
"People lie because they know they did something wrong. That's why he lied, ladies and gentlemen," prosecutor Creighton Waters said during the trial. "This defendant…has fooled everyone, everyone, everyone who thought they were close to him. Everyone who thought they knew who he was, he's fooled them all. He fooled Maggie and Paul too, and they paid for it with their lives. Don't let him fool you, too."
The Murdaugh murders have been the subject of multiple documentaries that also explored the family's connections to other controversial deaths. These include the 2015 killing of Stephen Smith, the 2018 death of their longtime housekeeper Gloria Satterfield, and the 2019 death of Mallory Beach. The coverage painted Murdaugh as a power-hungry man whose elite status gave him a feeling of impunity. The most recent instance is Netflix's Murdaugh Murders: A Southern Scandal, released in February.
"Today's verdict proves that no one, no one—no matter who you are in society—is above the law," South Carolina Attorney General Alan Wilson said Thursday, before referencing Maggie and Paul. "Their voice was heard tonight, and justice was brought for them we can't bring them back, but we can bring them justice."
Prosecutors are seeking life in prison for Murdaugh, who is scheduled to be sentenced Friday morning.
He will also stand trial for a number of alleged financial crimes, including tax evasion, money laundering, and insurance fraud.