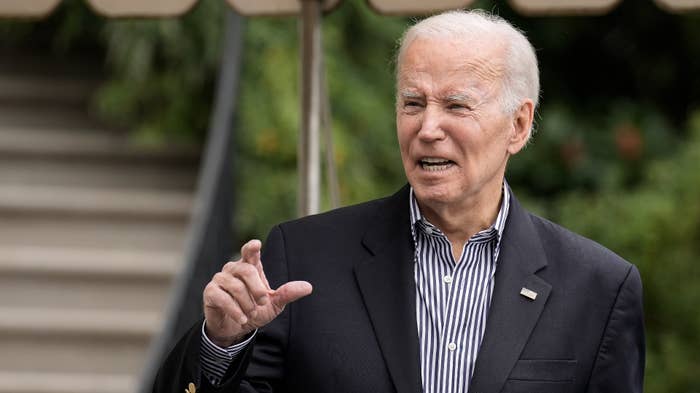 A hot mic caught Joe Biden on Wednesday telling Fort Myers Beach mayor Ray Murphy the same thing he probably said to CornPop 60 years ago: "No one fucks with a Biden." 
Biden visited Fort Myers, Florida and surveyed the aftermath of Hurricane Ian as well as holding a joint press conference with Gov. Ron DeSantis, according to Insider. Afterwards, he spoke with Murphy and lightheartedly told him, "No one fucks with a Biden." 
The mayor responded, "Yeah, you're goddamn right." 
Biden also said "you can't argue with your brother outside the house," likely in reference to the POTUS and DeSantis playing nice in public despite their political differences and the growing possibility that the latter could run as the Republican challenger against Biden's reelection bid in 2024.  
Their temporary truce came weeks after Biden called DeSantis "un-American" for taking ownership for a truly bizarre stunt in which he transported 48 migrants from Texas to Martha's Vineyard in Massachusetts on private planes. 
Biden is no stranger to getting caught on a hot mic. He called Peter Doocy "a stupid son of a bitch" in January after Fox News' White House reporter asked the president if inflation was a political liability for him.
His most infamous moment came in 2010, when he was faintly overheard telling President Barack Obama that passing the Affordable Care Act was a "big fucking deal."