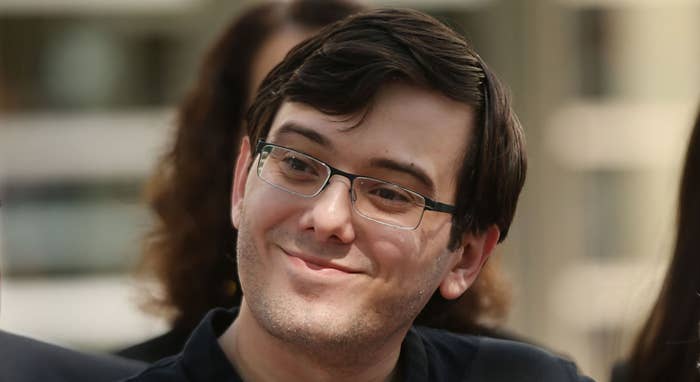 Shamed "Pharma Bro" Martin Shrkreli was released from federal prison in Pennsylvania on Wednesday and transferred to a halfway house in New York to finish his seven-year sentence for securities fraud, as reported by CNBC. He has currently served just over four years, having been sentenced in March 2018.
Shkreli's attorney Ben Brafman released a statement saying his team is satisfied with the development.
"I am pleased to report that Martin Shkreli has been released from Allenwood prison and transferred to a BOP halfway house after completing all programs that allowed for his prison sentence to be shortened," Brafman said. "While in the halfway house I have encouraged Mr. Shkreli to make no further statement, nor will he or I have any additional comments at this time."
On Wednesday afternoon, a photo began circulating on social of a man apparently picking up 39-year-old Shkreli from prison after he was released.
"Picked up this guy hitchhiking," he tweeted. "Says he's famous." 
Shkreli also reportedly shared a message on his Facebook page reading, "Getting out of real prison is easier than getting out of Twitter prison," referring to his removal from the social media site after harassing a journalist.
Shkreli initially gained infamy in 2015 after his pharmaceuticals company Vyera summarily raised the price of the lifesaving drug Daraprim from $13.50 to $750 overnight. The drug is used to treat infections for patients who have cancer and AIDS.
Simultaneously in 2015, Shkreli went to war with RZA and the rap community after purchasing the Wu-Tang Clan's one-of-a-kind album Once Upon a Time in Shaolin for $2 million and threatening to leak or destroy it. After Shkreli's arrest, the ultra-rare LP was seized by the U.S. government and later purchased by an NFT group for $4 million. That is chronicled in the documentary Pharma Bro vs. Wu-Tang Clan.