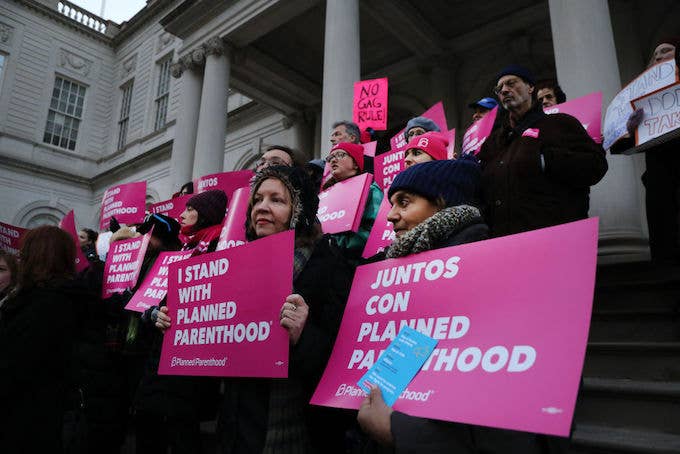 While some viewed Alabama Governor Kay Ivey's decision to sign the country's most restrictive abortion bill into law frightful, unconstitutional, and a grave violation of women's rights, others saw it as troublingly emboldening. 
Seven states have passed abortion restrictions this year in hopes of using the shifted ideological balance of power on the Supreme Court to their advantage. Since Brett Kavanaugh's confirmation, Ohio, Utah, Kentucky, Arkansas, Missouri, Alabama, and Georgia have all passed legislation that challenges the protections guaranteed under Roe v. Wade. Although the bill passed in Alabama is by far the most restrictive, Republican-led legislatures in Georgia, Kentucky, Ohio, and Mississippi have passed so-called heartbeat bills, which would outlaw abortion after six weeks of pregnancy. 
While raising awareness on social media is incredibly important, you can also help women who live in states with extreme abortion bans by donating to and volunteering at local and national reproductive rights organizations. 
National Network of Abortion Funds supports women in 38 states who face financial and logistical barriers preventing them from accessing an abortion provider. In addition to providing funding, the organization offers transportation services for those women living in states where abortion clinics are sparse. The Yellowhammer Fund is part of the NNAF network, which provides direct support to women in Alabama. The Mississippi Reproductive Freedom Fund, and the Gateway Women's Access Fund (Missouri) are also part of NNAF's nationwide network. 
Planned Parenthood Action Fund is the organizing, advocacy, and electoral arm of Planned Parenthood. The organization challenges anti-abortion legislation by educating elected officials, challenging restrictive bans in court, and mobilizing activists.
Access Reproductive Care - Southeasthelps families and individuals in the South access safe and affordable reproductive care. Based in Georgia, the organization helps women in Alabama, Florida, Georgia, Mississippi, South Carolina, and Tennessee. 
The National Abortion Federation provides educational resources for women who want to know more about their reproductive options, helps women access reproductive care across the country, and ensures that clinics remain open.
Donate directly in states most affected. While Planned Parenthood is a well-known abortion provider and an incredible organization, many women go to local clinics for their procedures. HuffPost published a list of clinics in each state, which included Jackson Women's Health Organization in Mississippi, EMW Women's Surgical Center in Kentucky, A-Z Women's Center in Nevada, Capital Care Network in Ohio, and Alabama Women's Center LLC. 
Volunteer as a clinic escort. In my personal experience, volunteering as a clinic escort was one of the most fulfilling and tangible ways I could help women seeking abortions. Much of the time, you're helping women get from their car to the clinic, and acting as a barrier between them and the protestors who are often swarming outside. You can find more information on becoming a clinic escort for Planned Parenthood here. 
And last but certainly not least—VOTE. As these restrictive measures have proven, statewide elections are just as important as presidential races. You can check your voter registration status here.