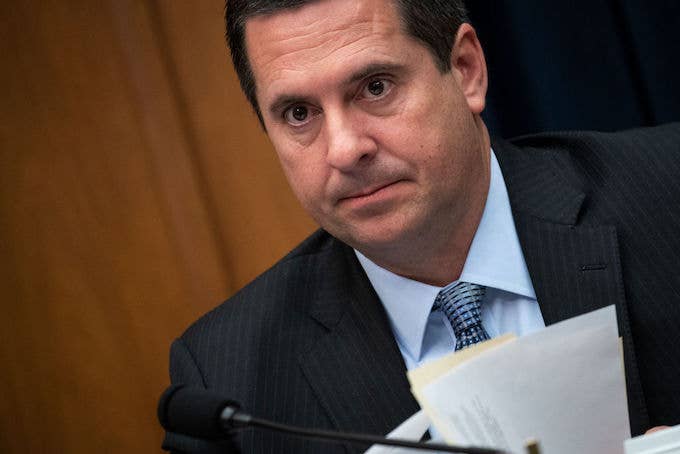 Devin Nunes only embraces the First Amendment when it suits the President, and when it doesn't, he'll sue Twitter for allowing users on the platform to say bad things about him, and impersonate his fictional cow. 
In Nunes' most recent legal tirade, the Republican Representative is suing his hometown newspaper for what he claims is "character assassination." The defamation lawsuit against the McClatchy Company seeks $150 million in damages and the removal of an article published by the Fresno Bee, regarding an event for the Alpha Omega Winery, where Nunes is a part-owner. The McClathy-owned outlet ran a story in May of last year titled, "A yacht, cocaine, prostitutes: Winery partly owned by Nunes sued after fundraiser event."
The article details a lawsuit lodged by a former employee of the winery, who attended a 2015 fundraiser yacht cruise alongside investors from the company, and allegedly witnessed attendees doing cocaine and soliciting underage prostitutes. The Fresno Bee stipulates that it remains unknown to what extent Nunes knew about the lawsuit, or whether he was affiliated with the fundraiser.
Despite the legal precedents which typically safeguard newspapers against libel claims, the former chairman of the House Intelligence Committee branded the article as a politically motivated effort meant to "destroy his reputation." The Trump ally also made the baseless assertion that the publication sought to "derail" the committee's investigation into Russian interference in the 2016 election. 
Naturally, Nunes' detractors decided to use news of the lawsuit as grounds for comedic relief from our political landscape. Andy Lasser, a producer on Ellen, took to Twitter to jokingly advise users against circulating the hashtag #YachtCocaineProstitutes in reference to Nunes' disdain for social media and just cause he's a really terrible guy. 
Shortly thereafter the hashtag was the number one trending topic on Twitter, with hosts of users joining in on the mass ridicule. 
The representative has used the legal system as a means of going after his haters in the past. Last month, Nunes filed a lawsuit against the Twitter account Devin Nunes' Cow, drawing tons of attention to the dispute that the fictional cow actually surpassed Nunes' follower account on the platform. 
In his lawsuit against McClatchy, Nunes accuses political consultant Liz Mair of convincing the Bee to post the article about the cruise. He also implicated Mair during his Twitter parody accounts lawsuit, claiming she coordinated with the account holder on "a vicious defamation campaign" against him. 
If only this much support could be rallied behind whoever runs against Trump's lapdog.