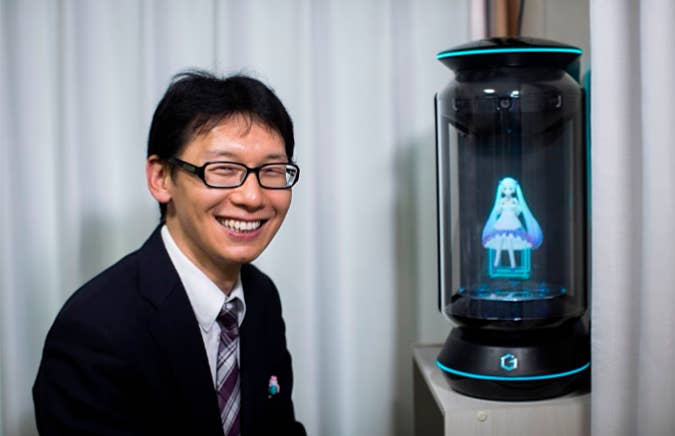 This past month, a 35-year-old man named Akihiko Kondo, who can be classified as either an innovator or a total nut (or perhaps both), settled down and married an animated 16-year-old virtual reality singer named Hatsune Miku in Japan, in a ceremony that cost two-million yen (which converts to over $17,500). The Japan Times reports that Kondo tied the knot with Miku (who was represented by a "cat-sized stuff doll" in her special day) in front of roughly 40 witnesses. While that seems like too high of a turnout for something like this, the Times adds that his mother was not in attendance.
"I never cheated on her, I've always been in love with Miku-san," Kondo said. Roughly a week after the wedding he added "I've been thinking about her every day."
The Times adds that Kondo has been living with a moving and talking Miku hologram, which floats via a $2,800 desktop device, since this past March. "I'm in love with the whole concept of Hatsune Miku but I got married to the Miku of my house," he says.
Though other people may have their doubts, Kondo reportedly considers himself a normal guy whose holographic wife wakes him every day so he can go to his job as an administrator at a nearby school. He also phones her when he's on his way home so she can turn off the lights, and she also reminds him when it's time to go to sleep. At that point he rests next to her doll version, whom he gave a wedding ring to.
For those of you wondering, the marriage is not legally recognized Japan, though Kondo seems unfazed. In lieu of that he's been given a "marriage certificate" by Gatebox, the company that manufactures the hologram device. Kondo insists that Gatebox has sent about 3,700 of those certificates to other people with "cross-dimension" marriages, and he also says he's gotten messages of support for his unorthodox way of life.
"There must be some people who can't come forward and say they want to hold a wedding. I want to give them a supportive push," he says.
Kondo adds that he had difficulties with human women during his anime-obsessed teenage years. He recalled having a nervous breakdown following alleged bullying from women at his workplace, which subsequently caused him to swear off marriage, at least to other human beings.
Kondo explains that the benefits of his relationship include the fact(s) that synthetic women can't cheat, get older, or die. "I'm not seeking these in real women. It's impossible," he added. "I believe we must consider all kinds of love and all kinds of happiness."
Damn. True Life Japan, if you exist, we have a story for ya.