Jeff Bezos' Wealth Hits Record High Following Pentagon Move
Jeff Bezos' estimated net worth reached a new all-time high after the Pentagon announced it'd be switching a cloud-computing contract from Microsoft to Amazon.
Getty
Image via Getty/Picture Alliance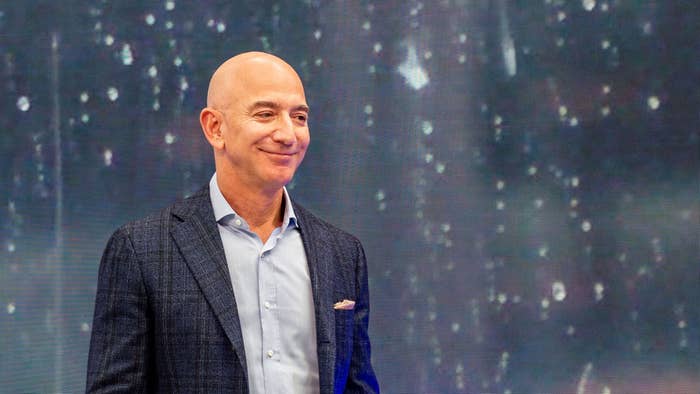 A day after vacating his role as CEO of Amazon, Jeff Bezos got his ass even more money. 
On Monday, Bezos passed the CEO spot over to Andy Jassy. He still holds the title of Executive Chairman, and also is the tech company's largest shareholder with 11 percent. 
Bezos' worth rose by a lot, specifically $8.4 billion, upon news that the Pentagon was canceling a $10 billion cloud-computing contract it had with Microsoft. The previous contract had been approved by ex-president slash Bezos critic Donald Trump. The deal's now expected to go to Amazon and maybe some other companies. This news led to a 4.7 percent rise in Amazon stock. According to Bloomberg's billionaires list, Bezos' wealth also increased *points at that largest shareholder thing in the above paragraph* we're very happy for him. 
Deadline notes that Bezos' roughly calculated wealth was around $177 billion at the start of 2021. By Tuesday it was up $34 billion to a (new) total of $211 billion. That allows him to stay the world's richest person, which has been true for at least four years, according to Forbes, despite some fluctuation with Elon Musk. It also sets a new mark for the most insanely ambitious of elites to shoot for. 
While $34 billion is a lot (dumb line) Forbes estimates that Bezos' wealth grew by $64 billion in 2020 as Amazon's coffers reaped serious benefits from being the No. 1 online retailer during the COVID-19 pandemic. Feel free to note that the current year's only about halfway over. Also feel free to note that all this will probably lead to generations of (justifiably) simmering resentment and anger from people who had their in-person businesses shutdown.
Anyways, Bezos' new net worth of $211 billion puts him a single billion (chump change) over the $210 billion valuation Elon Musk briefly held earlier in 2021. Musk is currently at the No. 2 spot on the billionaires list with $181 billion. He'll be fine.