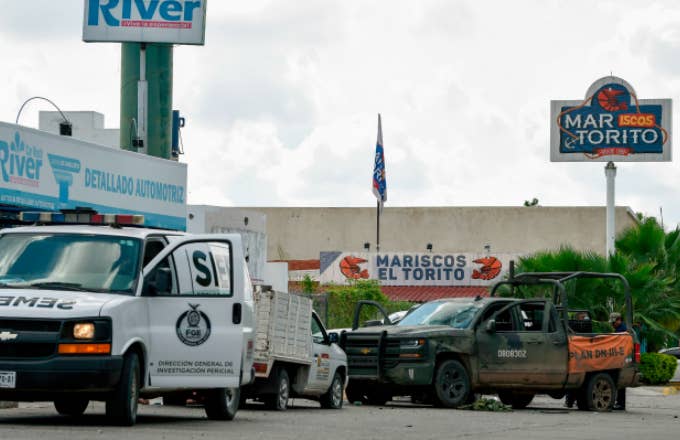 A police officer associated with the arrest of El Chapo's son was murdered by armed gunmen in Sinaloa, Mexico.
The 30-year-old officer has only been identified by Mexican authorities as Eduardo N. He was killed in the parking lot of a strip mall on Wednesday. In footage obtained by Mexican newspaper Excelsior, a red sports car can be seen pulling beside Eduardo's vehicle. Several armed men jumped out of the sports car and sprayed Eduardo's car with bullets. Close to 155 bullets were reportedly fired at close range in just 30 seconds. 
The officer was a member of Sinaloa's State Preventive Police, who're ordered to protect Undersecretary of Public Safety Carlos Alberto Hernandez Leyva. Sinaloa's Secretary of Public Safety Cristobal Castañeda Camarillo said that Eduardo N. was not involved in the failed arrest of El Chapo's son, Ovidio Guzman Lopez, but he is a part of the anti-drug unit that patrols the area. 
"The secretary of public security of the state regrets the death of a member of the state police, Eduardo, who lost his life this Wednesday in the capital of Sinaloa," a statement regarding the officer's death reads.
This unit and other authorities attempted to arrest Guzman Lopez in October because he is wanted by U.S. authorities on drug trafficking allegations. Guzman Lopez was apprehended but the members of the Sinaloa Cartel forced government authorities to release him and retreat. The shooting of Eduardo N. seems to be in response to the force's attempt.