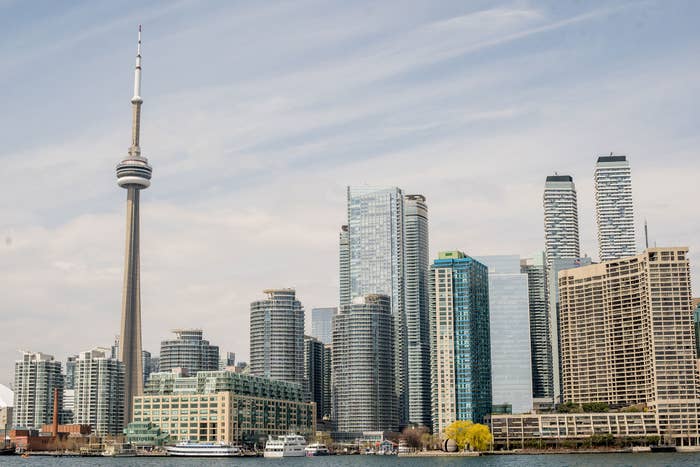 A study recently published by researchers at the University of Calgary's School of Public Policy is confirming something that's probably already painstakingly clear to many Canadians: when rent goes up, sometimes there's not enough money left over for food. 
And in a city like Toronto, where the average monthly cost of rent for a one-bedroom apartment has risen to $2,044, which is 12 percent more than it was in March 2021, this could mean thousands more visits to food banks than usual. 
The report's authors looked at monthly data supplied by Daily Bread Food Bank, a Toronto-based charity dedicated to ending hunger in urban communities, and noted a 53 percent increase in food bank visits from 2014 to 2020. According to a Daily Bread release, Toronto's food banks had 1.45 million visits last year.   
They also noted a strong correlation between increased food bank visits and a number of social policy changes. 
"Like the proverbial canary in the coalmine, increased visits to food banks may be considered an early warning sign of trouble developing in social programs," the study reads. "The study shows that the number of visits to food banks increase with increases in rent, fall with increases in the minimum wage, and increase with reductions in the disability benefits available to people requiring social assistance."
For perspective, the median income of a GTA food bank user, 51 percent of whom have a disability or health condition expected to last at least a year, is $1,106 per month, which breaks down to $9.17 per person per day for food after the other necessities have been accounted for. That's not a lot, and barely a latte. 
The report extrapolates its numbers to deduce that a monthly increase in rent of just $30 would lead to 73,776 additional visits to food banks per year in Toronto, and 375,512 more visits across the province.
Inversely, should the minimum wage go up by $1, it would result in 36,876 fewer visits in Toronto and 187,756 fewer across Ontario; and if Ontario's Disability Support Program gave $15 per month more per person, that would result in 53,652 fewer city visits and 273,099 fewer provincial visits. 
If the canary is whistling for Toronto, other Canadians cities with skyrocketing rent prices should probably listen, too. In Vancouver, a one-bedroom apartment costs $200 more than in Toronto, at $2,239 as of March 2022. For Vancouver renters, that's a 3.51 percent increase this month over last and an outrageous 14.7 percent increase since this time last year.
"This study shows that governments can put food banks out of business by focusing policies on rent stability and increasing wages and disability benefits," says Neil Hetherington, CEO, Daily Bread Food Bank. "A failure to prioritize these will sadly drive more people to our doors because they have nowhere else to turn when their income cannot cover the cost of living."