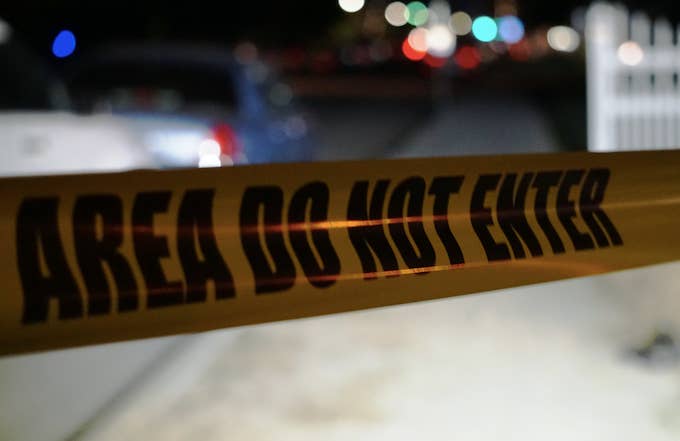 A Texas police officer was placed on administrative leave this week after he fatally shot a black woman who said she was pregnant.
The incident occurred Monday evening outside an apartment complex in the Houston suburb of Baytown, Texas. An unknown bystander captured the shooting on video and posted the footage to social media. The disturbing clip shows the victim, identified as 45-year-old Pamela Turner, arguing with the officer in the parking lot.
"I'm walking! I'm actually walking to my house! You're actually harassing me," she screams before a Taser is heard going off. "Why? Why?"
Turner eventually falls to the ground as the officer apparently tries to handcuff her. Moments later, the cop draws his gun and fires multiple shots at the woman. She was pronounced dead at the scene. 
The Baytown Police Department has released a statement, claiming the officer was "forced" to shoot Turner because she gained control of his Taser. The department has not identified the officer but describes him as an 11-year veteran who had previous encounters with the victim. Baytown Police also suggested that the officer tried to arrest Turner over outstanding warrants.
The statement reads in part:
The officer contacted the female and attempted to arrest her at which time a struggle ensued, forcing the officer to deploy his department issued Taser at the female. It appears that as the officer was then attempting to handcuff the female she was able to gain control of his Taser and turned it on the officer, Tasing the officer, which forced the officer to draw his duty weapon and fire multiple rounds at the female, striking her at least once. The female has been pronounced deceased at the scene.
Baytown Police Lt. Steve Dorris told CNN that Turner was not pregnant at the time of the shooting.  Turner's sister, Antoinette, told KPRC that the woman had two children and three grandchildren. Antoinette also claimed that the involved officer was Turner's neighbor and that her sister was on medication for schizophrenia.
Texas authorities continue to investigate the shooting and have asked the individual who posted the graphic footage to come forward. 
"It's unfortunate that somebody take a tragic incident like this and start posting it on social media," Dorris said. "That's extremely disrespectful for everybody involved."