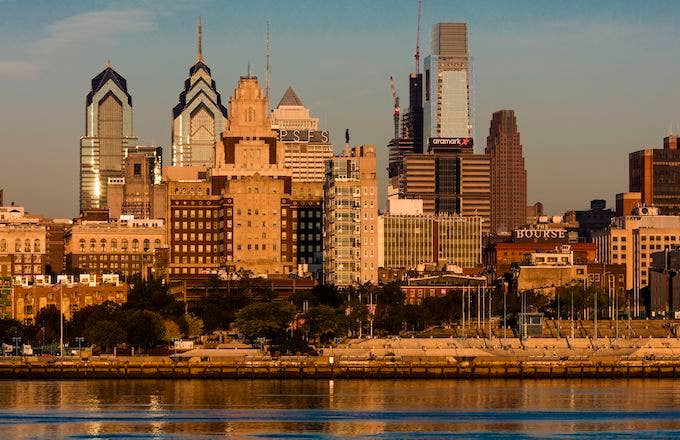 At least six police officers were wounded Wednesday during a shootout in the Nicetown–Tioga area of North Philadelphia. CNN reports gunfire broke out at around 4:30 p.m. local time, after authorities attempted to serve a search warrant at a multifamily home where suspected narcotics activity was taking place.
Philadelphia PD's Eric Gripp said the wounded officers were transported to hospitals and that their injuries are not life-threatening.
The situation remained active for several hours with at least one suspect barricaded inside of a building. Two officers remained trapped inside as authorities attempted to communicate with the gunman. At around 9:35 p.m., authorities confirmed the two officers were safely evacuated from the building.
Philadelphia Mayor Jim Kenney told reporters he has spoken to the six injured officers—who have not been identified—and said they were all "in good spirits."
UPDATE 7PM - Situation is active and ongoing. 6 PPD Officers shot - continue to receive treatment at area hospitals. Shooter is still armed inside location. AVOID AREA
Gripp urged residents to stay away from the area, and confirmed children were evacuated from a nearby daycare center.
A spokesperson for Temple University said the school's Health Sciences Center was placed on lockdown for several hours; it was lifted at around 7 p.m.
As the standoff continued, SWAT officers escorted four women out of the building. The women, who were on the second floor at the time of the shootout, told KYW they were thankful for officers' response.
"I think, I think, there were all these cops, they're good people, don't say nothing bad about them," one woman said. "They kept us safe the whole time, the whole time, they kept us safe."
Philadelphia authorities said they could not confirm whether there were multiple shooters. Police Commissioner Richard Ross said they have called the suspected gunman numerous times, but they could not get him to speak. 
"We are trying to talk to this male, trying to let him know that he can end this peacefully now," Ross said.
President Donald Trump, who is currently on summer vacation, has been briefed on the shooting "and continues to monitor the situation," according to Hogan Gidley, the deputy White House press secretary.
Several hours after the standoff began, the suspect was apprehended.
UPDATE: Suspect is in custody. SWAT is still clearing the house
All of the officers that were injured during the shootout have also been released from the hospital.
UPDATE: ALL six officers who were shot have been released from area hospitals. One Officer is being admitted for injuries sustained in a vehicle crash related to the incident. Situation remains active and ongoing.