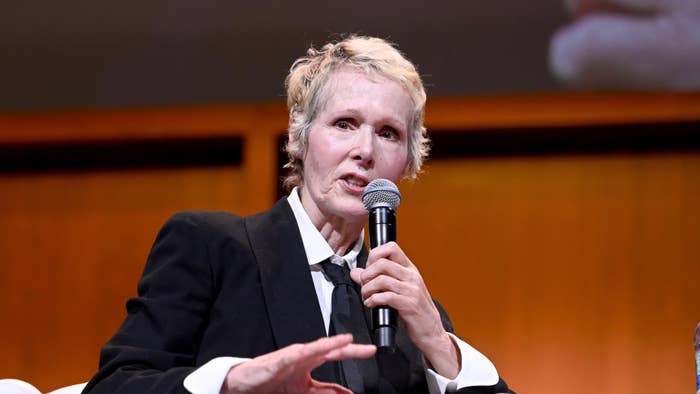 E. Jean Carroll, a former columnist who accused Donald Trump of sexual assault, is suing the ex-president for a second time.
According to the Associated Press, the ex-Elle contributor filed the civil lawsuit electronically on Thanksgiving Day, shortly after New York's Adult Survivors Act went into effect. The law allows sexual assault survivors to take legal action against their abusers between Nov. 24, 2022-Nov. 24, 2023, even after the Statute of Limitations expired. 
Carroll publicly accused Trump of sexual assault in her 2019 book, claiming the then-president had raped her in a Bergdorf Goodman dressing room in the mid-1990s. Trump denied the claims in an interview with The Hill shortly after.
"I'll say it with great respect: Number one, she's not my type," Trump said. "Number two, it never happened. It never happened, OK? … I know nothing about this woman. I know nothing about her. She is — it's just a terrible thing that people can make statements like that."
Carroll ultimately sued Trump for defamation after he accused her of lying. That suit is currently pending.
The newly filed suit, which also includes allegations of battery, was updated with claims Trump made on his Truth Social platform last month.
"I don't know this woman, have no idea who she is, other than it seems she got a picture of me many years ago, with her husband, shaking my hand on a reception line at a celebrity charity event," he wrote before submitting to a sworn deposition related to the 2019 lawsuit. "She completely made up a story that I met her at the doors of this crowded New York City Department Store and, within minutes, 'swooned' her. It is a Hoax and a lie, just like all the other Hoaxes that have been played on me for the past seven years. And, while I am not supposed to say it, I will. This woman is not my type!"
Carroll claims Trump's denial has caused her pain and suffering, psychological harms, dignity loss, and reputation damage. She is seeking unspecified compensatory and punitive damages.