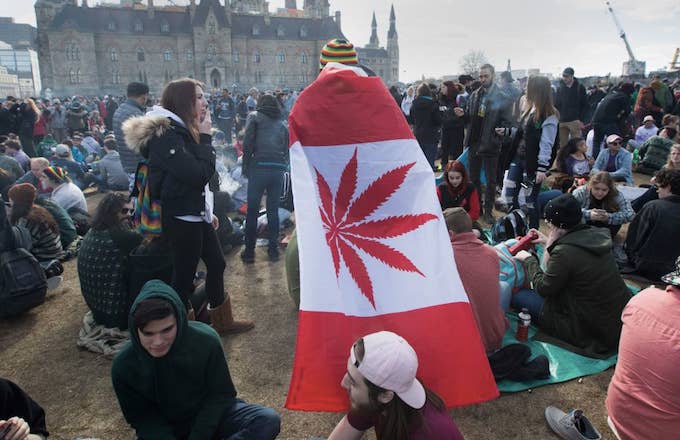 Canada has become the first G7 nation to legalize recreational marijuana.
On Tuesday night, the Senate voted 52-29 to pass Bill C-45, also commonly known as the Cannabis Act. The measure was previously approved by the House of Commons, and now awaits Royal Assent for the final step in Canada's legislative process.
According to NPR, the bill will allow anyone over the age of 18 to possess no more than 30 grams of marijuana. It also allows adults to sell cannabis as well as grow up to four plants in their home, making Canada the second country in the world after Uruguay to legalize recreational marijuana use.
Marijuana possession was officially outlawed in Canada during the 1920s. 
Authors of the bill pointed to several benefits of legalization, including economic stimulation and protecting the youth from criminal operations.
"We've just witnessed a historic vote for Canada. The end of 90 years of prohibition. Transformative social policy, I think. A brave move on the part of the government," the bill's sponsor Sen. Tony Dean told the CBC. "Now we can start to tackle some of the harms of cannabis. We can start to be proactive in public education. We'll see the end of criminalization and we can start addressing Canada's $7 billion illegal market. These are good things for Canada."
A fully legalized marijuana market is expected to roll out within the next eight to 12 weeks. That timeframe will allow provinces, municipalities, law enforcement, and other entities to prepare for the new law.