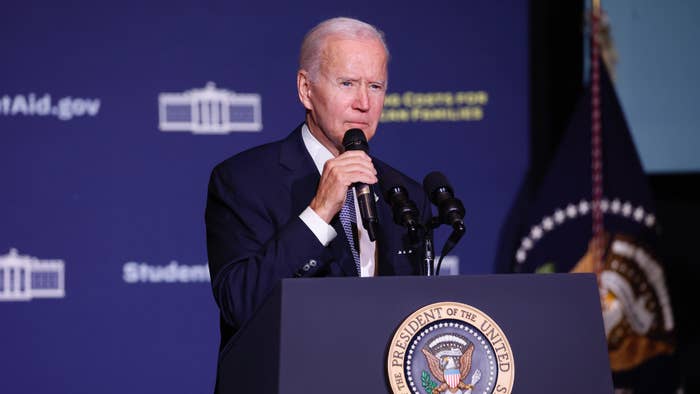 Joe Biden's student debt relief plan has hit a legal roadblock.
According to CNN, a federal appeals court temporarily blocked the program on Friday, as it reviews a challenge brought by six GOP-led states. More than a month after Biden announced the plan, Nebraska, Missouri, Arkansas, Iowa, Kansas, and South Carolina filed a lawsuit that claimed Biden could not cancel the debt without congressional approval, which he never received. The states also argued that the debt relief would threaten their tax revenues as well as hurt state-related entities that own or invest in privately held loans.
A lower court judge dismissed the case Thursday, stating the plaintiffs failed to establish "ongoing injury" caused by the program. The states immediately appealed the ruling, and the 8th U.S. Circuit Court of Appeals granted a stay as the case is being reviewed. The Biden administration has until Monday to respond. The plaintiffs have been asked to issue their reply no later than Tuesday.
POTUS said the debt relief plan aims "to give everybody a little more breathing room." 
"If you earn less than $125,000 a year, you'll get up to $10,000 knocked off your student debt," Biden said this week, referring to individual borrowers. "If you earn less than $125,000 a year and you received a Pell Grant, you'll get up to an additional $10,000 knocked off that debt — so $20,000 in relief."
Married couples or heads of households who earned less than $250,000 in 2020 or 2021 are also eligible for relief. 
The Biden administration said it can cancel the debt through Higher Education Relief Opportunities for Students Act of 2003. The legislation, which was passed in reaction to the 9/11 attacks, allows the secretary of Education to change student-aid program rules during times of national emergency. The White House argued the global pandemic qualifies as such an emergency.
The White House said approximately 22 million people applied for student loan debt relief since the application opened last week.