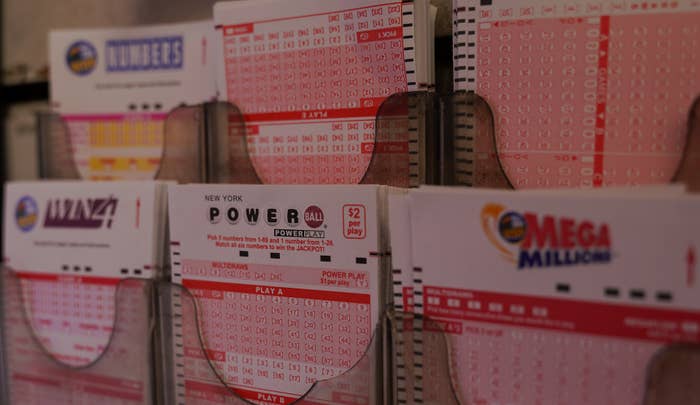 The winner of California's record-breaking lottery prize has purchased a luxurious home in the same Hollywood Hills neighborhood as Jimmy Kimmel and Ariana Grande.
TMZ reports Edwin Castro, who won the $2.04 billion Powerball lottery ticket at a Mobil gas station in the Los Angeles suburb of Altadena, bought a 13,578-square-foot house. The purchase comes just a month after Castro scored a $997.6 million lump sum before taxes. His new neighbors include Kimmel, Grande, and Dakota Johnson.
The three-story mansion features an infinity pool, full outdoor kitchen, gym, wine cellar, movie theater, and sauna. It also includes two separate garages big enough to fit seven cars, as well as a motor court in front of the home that can fit several more vehicles.
Back in February, another California man filed a lawsuit against Castro, saying he should be let in on the prize money. Jose Rivera alleges the winning ticket was swiped from him. According to court documents obtained by TMZ, Rivera claims he purchased the Powerball ticket on Nov. 7 from Joe's Service Center in Altadena, California.
He subsequently accused a man named "Reggie" of stealing it later that day. After allegedly attempting to retrieve the winning ticket, Rivera said he was told the ticket had losing numbers. Rivera then notified the California Lottery and local authorities of the theft, saying he wouldn't be "blackmailed."
Despite Rivera's claims, the California lottery appears to have taken Castro's side.
"The California Lottery is not authorized to investigate criminal activity among its players; such allegations are subject to investigation only by local law enforcement," a lottery spokesperson told TMZ at the time. "Should a local law enforcement agency investigate such allegations, Lottery's only role is to assist in the matter by answering questions and/or providing evidence as allowed under the law."
The spokesperson added, "Further, when it comes to the vetting process for big winners, California Lottery has the utmost confidence in its process for doing so. California Lottery remains confident that Edwin Castro is the rightful winner of the $2.04 billion prize stemming from the Powerball drawing in November of 2022."