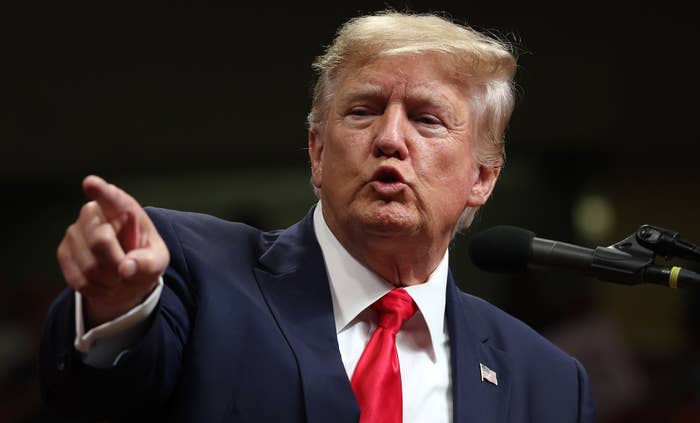 UPDATED 7/12, 9:49 p.m. ET: The back and forth between Donald Trump and Elon Musk continues.
Trump took to Truth Social on Tuesday to slam the Tesla CEO, writing, "When Elon Musk came to the White House asking me for help on all of his many subsidized projects, whether it's electric cars that don't drive long enough, driverless cars that crash, or rocketships to nowhere, without which subsidies he'd be worthless, and telling me how he was a big Trump fan and Republican, I could have said, 'drop to your knees and beg,' and he would have done it…"
UPDATED 7/12, 4:30 p.m. ET: Elon Musk has clapped back at Donald Trump after the former president called the Tesla CEO a "bullshit artist" at a rally in Anchorage, Alaska on Saturday night.
Musk took to Twitter late Monday and responded to a video in which Trump ripped him for terminating his $44 billion deal to acquire Twitter. 
"I don't hate the man, but it's time for Trump to hang up his hat & sail into the sunset," Musk tweeted. "Dems should also call off the attack—don't make it so that Trump's only way to survive is to regain the Presidency."
After a Twitter user replied to Musk's tweet saying he was "surprised" by the take, the SpaceX founder declared that Trump is "too old to be chief executive of anything."
"Trump would be 82 at end of term, which is too old to be chief executive of anything, let alone the United States of America," Musk responded. "If DeSantis runs against Biden in 2024, then DeSantis will easily win—he doesn't even need to campaign."
See original story below.
Former President Donald Trump mocked Elon Musk at a rally in Anchorage, Alaska on Saturday night, just a day after the Tesla CEO announced plans to terminate his $44 billion deal to acquire Twitter. 
"Elon. Elon. He's not going to buy Twitter," Trump said, before urging his supporters to start using his social media platform, Truth Social. "Where did you hear that before? From me."
Trump continued, "He's got himself a mess… You know what he said the other day, 'Oh, I've never voted for  a Republican.' I said I didn't know that because he told me that he voted for me, so he's another bullshit artist… He's not going to be buying it. Although he might later, who knows… He's got a pretty rotten contract. I looked at his contract. Not a good contract."
Trump was in Alaska to support Republicans Sarah Palin and Kelly Tshibaka.
Musk on Friday filed a letter with the U.S. Securities & Exchange Commission, expressing his intent to back out of his controversial Twitter acquisition and accused the platform of making "false and misleading" statements.
"Mr. Musk is terminating the Merger Agreement because Twitter is in material breach of multiple provisions of that Agreement, appears to have made false and misleading representations upon which Mr. Musk relied when entering into the Merger Agreement, and is likely to suffer a Company Material Adverse Effect," the letter reads.
The statement went on to accuse Twitter of failing to meet Musk's contractual obligations.
"Sometimes Twitter has ignored Mr. Musk's requests, sometimes it has rejected them for reasons that appear to be unjustified, and sometimes it has claimed to comply while giving Mr. Musk incomplete or unusable information," the letter stated.
Back in April, Musk agreed to purchase Twitter at $54.20 a share.