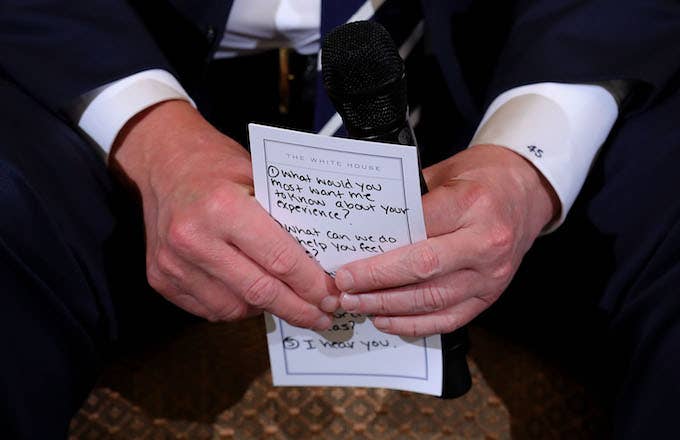 Donald Trumpheld a listening session at the White House with the Parkland shooting survivors and others impacted by gun violence, but it was a photograph that caught the attention of many.
The close-up image of Trump's handwritten notes with the "White House" letterhead includes five questions or talking points. It included questions like "What would you most want me to know about your experience?" and "What can we do to help you feel safe?" His fingers cover up the middle questions, but the last one simply reads "I hear you."
That part didn't sit well with people on social media, who point out Trump shouldn't need notes to remind him of how to empathize with these students and parents.
"Some of your suggestions, I've heard some of them. We're going to do something about this horrible situation that's going on," Trump said during the listening session, per CNN. "I want to listen. And then after I listen, we're going to get things done." "I was born into a world where I never got to experience safety and peace. There needs to be a significant change in this country. This has to never happen again," he continued.
"People should be able to feel like when they go to school it can be safe. There needs to be a change. People need to feel safe. Parents shouldn't have to go through the idea of losing their child." The meeting took place a week after the mass tragedy at Marjory Stoneman Douglas High School that left 17 people dead and 14 others injured.
Trump previously caught flack for attending a party at his Mar-a-Lago resort just hours after meeting with first responders and students in Parkland, Fla. He later blamed the shooting on the FBI's focus on the Russia investigation. "Very sad that the FBI missed all of the many signals sent out by the Florida school shooter," he tweeted. "They are spending too much time trying to prove Russian collusion with the Trump campaign."
On Tuesday, the president announced he had directed the Department of Justice "to propose regulations that ban all devices that turn legal weapons into machine guns" in an effort to combat the ongoing gun violence.