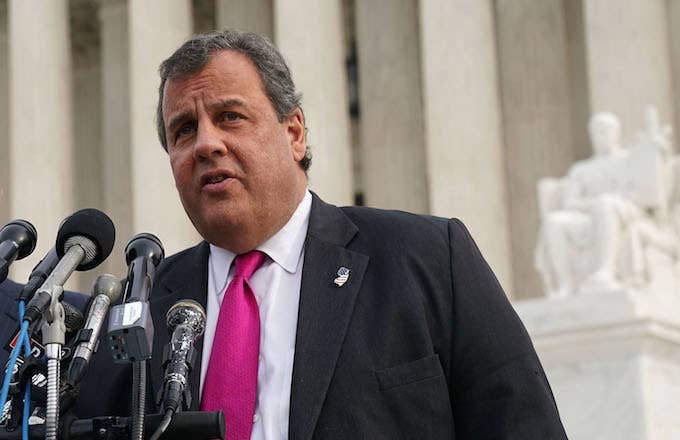 Chris Christie has got a new job. The former New Jersey governor plans to invade your television screens very soon; he'll join ABC News as a contributor, according to NJ.Com.
The former Republican presidential candidate was reportedly hired "because he is close to the president and the players inside the White House." That makes sense since Christie is buddies with Donald Trump and supported his presidential campaign after dropping out of his primary bid. Christie's new role as contributor will be effective immediately, with him joining Good Morning America Tuesday morning. The announcement will officially be made during the show. He'll then return to ABC News later that night to help with the coverage of Trump's State of the Union address.
Once the reports spread about the new gig, folks were not happy. 
"Who's going to be the one to tell him that ABC doesn't stand for 'A Bridge Closed'?" one Twitter user commented. Another tweeted, "How nice, instead of his ass being in jail for #BridgeGate -Chris Christie gets a job with @ABC. This is so wrong."
Christie's new co-workers include former Fox News contributor Meghan McCain, who is now a co-host on The View, and political consultant Alex Castellanos. Christie is infamous for his big-ass mouth: In the past, he revealed he ate meatloaf because Trump made him do it, insulted the Chinese government during the GOP debate, stated the Black Lives Matter movement supports cop killings, and told a New Jersey National Guard leader to lose some weight.
So this ABC News contributor job should make for entertaining television, especially with Tuesday's State of the Union.