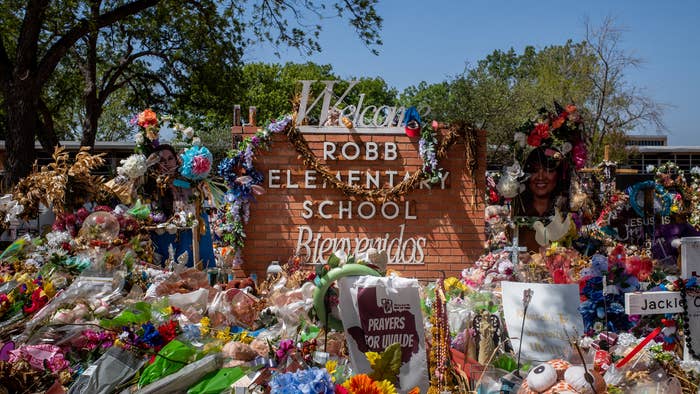 At an open forum during a school board meeting in Uvalde, Texas on Monday, local residents and parents of Robb Elementary School shooting victims demanded the firing of the district's police chief.
As CNN reported, eight people spoke during the forum in an effort to seek accountability over the heavily criticized police response to the shooting, which left 22 dead including the perpetrator. 
"We all know that [the police] messed up, we all know that this wasn't handled right," said Ryan Ramirez, whose daughter Alithia was killed. "Y'all can do whatever you want to try and make us happy, it's not going to work. Y'all know what we want: accountability."
The police response to the shooting has continued to raise questions as more details have come to light. According to documents reviewed by KVUE-TV, officers at the scene had tactical equipment and rifles within 19 minutes of the perpetrator arriving on the school campus. As previously reported, it took officers between 40 minutes to an hour to break into the classroom and kill the shooter, who also injured 18 others in the massacre. 
Uvalde School District Police Chief Pete Arredondo has faced the majority of the criticism, although he has defended his actions or more specifically lack thereof. 
"We were failed by Pete Arredondo. He failed our kids, teachers, parents and city, and by keeping him on your staff, y'all are continuing to fail us," said Brett Cross, a relative of victim Uziyah Garcia, at Monday's board meeting.
"If nothing is done by this council to ensure the safety of our children, perhaps it is time for individuals who are willing to risk their lives for our children to fill your seats," added Angeli Gomez, a parent who jumped over a fence and into the school to save her children during the shooting. "Our elementary schools are built with the same concept of a motel. If I was able to jump a fence to seek access to my students, so can an intruder."
Deadline reported that at the Uvalde City Hall on Monday before a Texas House of Representatives committee hearing, parents and reporters were asked to leave ahead of police testimony. The clip, as posted by CNN's Shimon Prokupecz, shows a fire marshall telling parents to leave because someone present "is intimidated" by their presence.