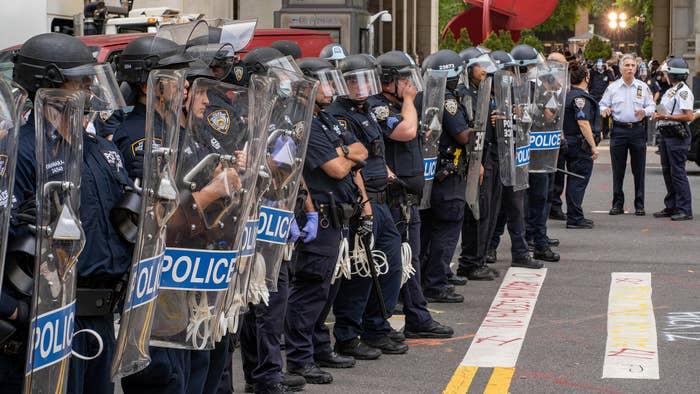 New York City has agreed to pay $21,500 each to demonstrators who were trapped by NYPD officers during the racial justice protests nationwide in 2020, the New York Times reports.
The city will pay the amount to hundreds of protesters, who were pinned in by officers who beat and arrested demonstrators en masse using a practice known as kettling. If approved by a judge, the settlement will be one of the highest ever awarded as part of a class action lawsuit related to mass arrests. It is estimated that the settlement could cost NYC somewhere between $4 million to $6 million.
The case is tied to approximately 300 individuals who were arrested by authorities during a June 4, 2020 protest in the Bronx against the police killing of George Floyd in Minneapolis the previous month. NYPD officers boxed in hundreds of peaceful protesters on 136th Street in the Mott Haven neighborhood, and prevented them from leaving the scene, per the lawsuit. Individuals were then restrained with plastic zip tie handcuffs, and the suit alleges that many of the responding officers were unmasked despite the spread of the COVID-19 novel coronavirus at the time.
"We had every right to protest, yet, the City of New York made an explicit statement that day that the people of the Bronx are at will to be terrorized," said 31-year-old Samira Sierra, who was one of the protesters who sued the city over the police response to demonstrations. At the time, then NYC mayor Bill de Blasio defended the use of kettling tactics and cited police commissioner Dermot F. Shea's assertion that protesters had routinely defied curfews while others engaged in looting.
"It was a pre-planned and premeditated assault," said attorney Alison Frick in comments shared with Gothamist. "This is a historic settlement and we feel very confident the court will approve it." Per a report on the incident from the Human Rights Watch, cops were found to have engaged in violent behavior "unprovoked and without warning, whaling their batons, beating people from car tops, shoving them down to the ground, and firing pepper spray in their faces."
The settlement is expected to be finalized in October. Back in December, 2021, the city of Columbus, Ohio agreed to pay upwards of $5.75 million to those were injured by police during the protests in the summer of 2020.