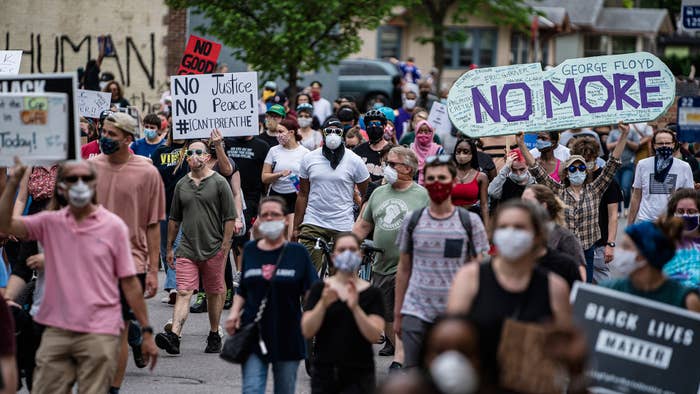 Newly released video showing George Floyd's arrest just hours before he died has surfaced online, and it shows no signs that he resisted arrest. Following Floyd's death in police custody, Minneapolis police said in a statement that Floyd "physically resisted officers" when he exited his vehicle. In surveillance video from a nearby restaurant, no evidence of struggle between him and the officers can be seen.
The officers who arrested Floyd responded to an alleged forgery, and when they arrived he was sitting in his car. Floyd was put in handcuffs as he made his way out of the vehicle, at which point the cops claim he resisted arrest. When he was handcuffed, he was pinned to the ground by one officer for an extended period of time. He let them know that he couldn't breathe, but they ignored his pleas for help.
In the police report, officers wrote that Floyd "appeared to be suffering medical distress." Another individual has provided a clip of the moment Floyd was arrested, and it similarly does not indicate there was a physical struggle between him and the police.
On Tuesday, demonstrators in Minneapolis gathered to protest police brutality. Cops in riot gear were deployed, utilizing tear gas on the crowds. Floyd's family has said that the four officers responsible for his death should be charged with murder.