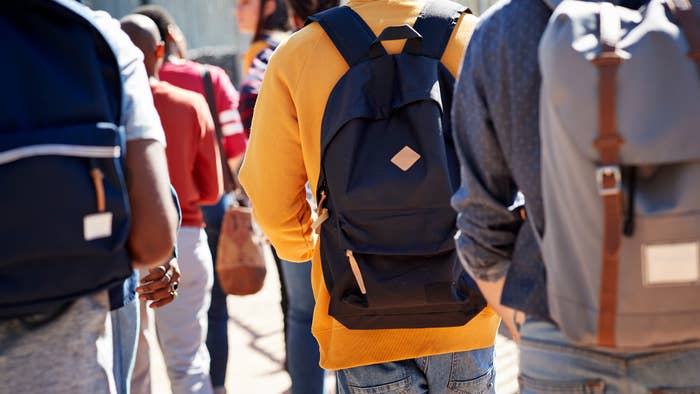 ABC News reports that the Flint Community Schools district in Michigan announced this week that all backpacks have been banned from school buildings due to safety concerns.
In a letter posted on the school district's website, Superintendent Kevin Jones said that the decision was made due to a rise in weapons being brought to schools. The new policy went into effect on Monday and bans all backpacks including clear ones. Students are also able to store personal items in small purses or see-through plastic bags.
"This policy will be in place through the remainder of the school year. Small purses with personal items (i.e., hygiene products, wallets, keys, phone, etc.), clear plastic bags with gym clothes, and lunchboxes will be allowed within reason. These bags will still be subject to search," reads the letter. "If a scholar brings a backpack to school, they will be sent to the office where they will need to call a parent or guardian to pick up their belongings. The office will not hold this property."
Jones said that backpacks make it "easier" for students to hide weapons, which "can be disassembled and harder to identify or hidden in pockets, inside books or under other items." The district has also increased its security presence at schools due to safety concerns. 
"This is a difficult decision, but it is one that will immediately benefit our district and the safety of those we serve," wrote Jones, who noted the decision was approved by the Flint Board of Education and received support from the Flint Police Department. "We take threats against our school community and weapons brought onto school property very seriously, and parents and scholars should understand there are legal ramifications to both of these actions."
Last year, one Michigan school district implemented the decision to require students to wear clear backpacks to school in response to the Oxford High School shooting, which left four dead.