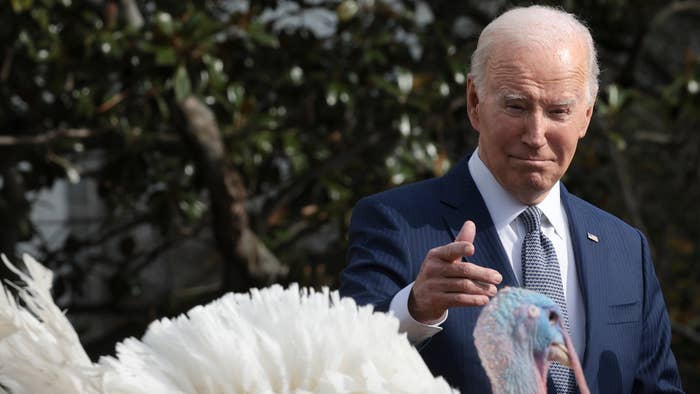 During the 76th annual White House turkey pardon on Monday, Nov. 20, President Joe Biden joked about "turning 60" and then mixed up Britney Spears and Taylor Swift.
Biden pardoned turkeys Liberty and Bell on Monday, during which he joked that getting a presidential pardon as a turkey is harder than getting tickets to either Beyoncé's Renaissance Tour or Taylor Swift's Eras Tour. While introducing the two turkeys, he said the owners of the turkeys sang happy birthday to him, to which he added, "I just want you to know it's difficult turning 60."
"Just to get here, Liberty and Bell had to beat some tough odds and competition," said Biden, who turned 81 on Monday. "They had to work hard, to show patience, and be willing to travel over 1,000 miles. You could say, even, this is harder than getting a ticket to the Renaissance tour or, or, or Britney's tour. She's down in, it's kinda warm in Brazil right now."
Beyoncé's Renaissance tour was infamously hard to get tickets for and concluded this past month in Kansas City. Taylor Swift is currently on tour in Brazil, where she recently dedicated a performance of "Bigger Than the Whole Sky" to a 23-year-old fan who passed away. Britney Spears is not on tour, let alone in Brazil. She has, however, been in the news a lot thanks to her memoir, The Woman in Me.
The tradition of pardoning turkeys is younger than Biden, which is something he joked about during his speech. "I want you to know I wasn't there for the first one," he said. "I was too young to make it up." At one point during the pardon, he commented on the large size of one of the turkeys by exclaiming, "That's a big bird, man!"