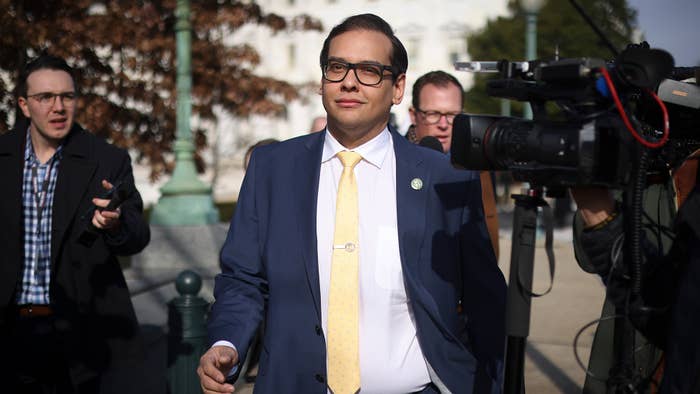 The embattled Republican House representative George Santos has been accused of stealing $3,000 from a disabled veteran who was raising funds for his dying dog.
As reported by Patch, Richard Osthoff launched a fundraising campaign in 2016 for his dog Sapphire, who needed life-saving surgery. At the time, Osthoff was told about a man who could help him out at a charity called Friends of Pets United. Santos allegedly ran the charity under the name Anthony Devolder, a name he also used to introduce himself at a pro-Trump LGBTQ+ event in 2019, per a recently surfaced video. Santos and Osthoff connected, and the disgraced New York representative helped him raise $3,000 on GoFundMe. However, he then allegedly deleted the fundraiser, and took the funds for himself.
Santos has said that Friends of Pets United was a tax-exempt charity, however the IRS has said there's no such registered charity under that name, per The New York Times. "He stopped answering my texts and calls," said Osthoff.
His dog Sapphire died on Jan. 15, 2017, and Osthoff could not afford the euthanasia or cremation due to being out of work for a year thanks to a broken leg. "I had to panhandle. It was one of the most degrading things I ever had to do."
Fellow New Jersey veteran Michael Boll, attempted to get involved and hold Santos responsible. "I contacted [Santos] and told him 'You're messing with a veteran,' and that he needed to give back the money or use it to get Osthoff another dog," Boll said. "He was totally uncooperative on the phone."
Osthoff added that he struggled to get in contact with Santos after he initially set up the GoFundMe all the way back in May 2016, and they only spoke around "two or three times" over the phone throughout the ordeal. 
In alleged text conversations between Osthoff and Santos, the Republican told the veteran to bring Sapphire to get the surgery at a veterinarian in Queens, New York instead of in New Jersey. However, when Osthoff arrived, he was informed that the vet was unable to "operate the tumor." Santos told him that he took the funds "for other dogs" because he "didn't do things my way."
"Remember it is our credibility that got GoFundme […] to contribute. We are audited like every 501c3 and we are with the highest standards of integrity," Santos reportedly wrote in a screenshot of a text exchange. "Sapphire is not a candidate for this surgery the funds are moved to the next animal in need and we will make sure we use of resources [sic] to keep her comfortable!"
As a result of Sapphire's death, who Osthoff said "never left [his] side in 10 years," his mental health worsened. " I went through two bouts of seriously considering suicide, but thinking about leaving her without me saved my life," he said. "I loved that dog so much, I inhaled her last breaths when I had her euthanized."
Santos is currently under investigation by federal, state, county, and Brazilian authorities for allegedly lying about his ancestry, education, employment, charity work, and property ownership among other things. Members of the Nassau County Republican Committee have called for him to resign following the multiple reports of his many lies, some of which he has admitted to.