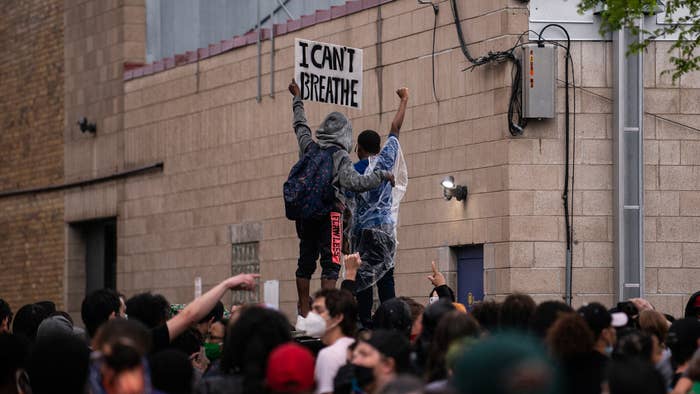 Following the death of George Floyd, who was filmed in Minneapolis with a police officer kneeling on his neck, his family is demanding justice. CNN reports that his family believes the four cops responsible for his death should be charged with murder. The officers, who responded to reports of "a forgery," have been fired, while state and federal authorities investigate the case further.
"They were supposed to be there to serve and to protect and I didn't see a single one of them lift a finger to do anything to help while he was begging for his life," Floyd's cousin Tera Brown told CNN. "Not one of them tried to do anything to help him."
During the interview, Brown and Floyd's brothers held up a picture of him, calling him a "gentle giant" who "didn't hurt anybody." 
"Knowing my brother is to love my brother," Philonise Floyd added. "They could have tased him; they could have maced him. Instead, they put their knee in his neck and just sat on him and then carried on. They treated him worse than they treat animals."
The officers responded to the alleged forgery reports on Monday, at which point they were told the suspect was sitting on a car. When they found Floyd sat inside a car, police claim he "physically resisted" upon getting out of the vehicle. He was handcuffed, and police said he "appeared to be suffering medical distress." Shortly after he was taken to a hospital, he died. 
"You have eyes. I have eyes. You can see what you saw," said Rodney Floyd. "And I saw, and the nation saw. ... And every black person saw the same thing, because it don't happen to nobody else."
Tera Brown added, "They need to be charged with murder because what they did was murder. And almost the whole world has witnessed that because somebody was gracious enough to record it." 
On Tuesday, hundreds of protesters gathered near the intersection in Minneapolis where Floyd was pinned to the ground. Among chants of "No justice, no peace," "I can't breathe," and "black lives matter," demonstrators later marched toward a nearby police precinct. The situation escalated when police in riot gear arrived, firing tear gas as some in the crowd made a barricade using shopping carts from Target.
Minneapolis Mayor Frey spoke to the media and asked, "Why is the man who killed George Floyd not in jail?" He called on Hennepin County Attorney Mike Freeman to "charge the arresting officer in this case."
Frey went on: "We cannot turn a blind eye. It is on us as leaders to see this for what it is, and call it what this is. George Floyd deserves justice. His family deserves justice, the black community deserves justice, and our city deserves justice."
He was also quoted by NBC News as saying, "What we saw was horrible, completely and utterly messed up. I believe what I saw, and what I saw was wrong at every level. This man's life matters. He should not have died. He was a human being, and his life mattered. ... Being black in America should not be a death sentence. When you hear someone calling for help, you are supposed to help, and this officer failed in the most basic human sense."
A Change.org petition calling for Justice for George Floyd and his family has reached over 2.5 million signatures in 48 hours, making it the site's fastest growing petition in its history. "We are trying to reach the attention of Mayor Jacob Frey and DA Mike Freeman to beg to have the officers involved in this disgusting situation fired and for charges to be filed immediately," the petition, which was started by Kellen Sims, reads. "Please help us get justice for George and his family!"