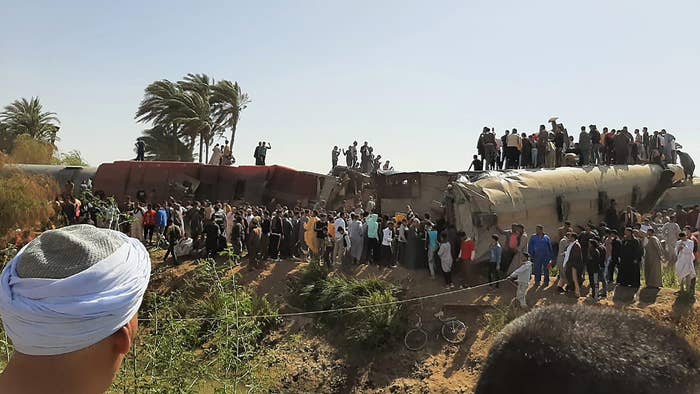 At least 32 people have died and 66 were injured after two trains collided on Friday in southern Egypt when someone activated the emergency brakes.
Associated Press reports that a large swath of ambulances were rushed to the incident, which happened in the southern province of Sohag. Approximately 50 of the wounded have since been transferred to nearby hospitals. The country's Railway Authorities said that the cause of the accident was the emergency brakes. One of the trains was a passenger train headed to the city of Alexandria, and when it stopped suddenly, it was struck by another train from behind.
Photos and videos from the scene reveal that the collision caused two cars to flip over. Passengers helped to free those stuck in the wreckage, while other bystanders were seen carrying bodies from the site. Egypt is infamous for its badly maintained railway standards, with official figures suggesting 1,793 train accidents happened in the country in 2017. 
"The pain that tears our hearts today cannot but make us more determined to end this type of disasters," said Egypt President Abdel-Fattah el-Sisi in a statement. The last major passenger train incident in the country happened near the city of Aswan in 2018, when a train derailed and injured at least six individuals. Just before that, in 2016, 51 people died when two passenger trains collided outside of Cairo.