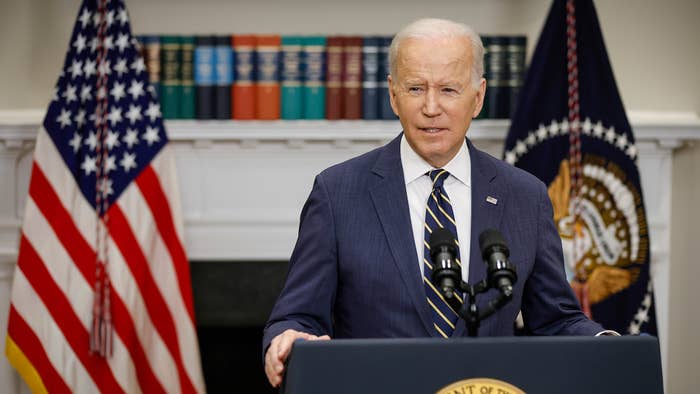 President Joe Biden announced a ban on Russian oil earlier this week, and now he's set to block U.S. imports of vodka, diamonds, and seafood from the country.
On Friday, the Biden administration issued an executive order to cease importing many popular Russian products and ban exports of a variety of premium goods to Russia, as Business Insider reports. The move is yet another major economic sanction against Russia following Vladimir Putin's military invasion of Ukraine, and will block over $1 billion in Russian revenue. Two-way trade between the U.S. and Russia totaled $35 billion in 2019, per the Office of the U.S. Trade Representative. 
"Putin is the aggressor and Putin must pay a price," said Biden on Friday at the White House. "It will be another crushing blow to the Russian economy. It's already suffering very badly from our sanctions."
The news comes as the European Union announced plans to cut Russian energy ties by 2027, as the Independent reported. 
The United States, and many Western businesses with an established presence in Russia have since suspended all operations in the country following the invasion, which has displaced at least 2.5 million people, according to the United Nations. In the past few weeks, Visa and MasterCard suspended all operations in Russia, while Starbucks and McDonald's have both closed all of their respective locations in the region. Netflix also announced that it suspended all service in Russia, as did Sony's PlayStation, per Eurogamer.
On Friday, Meta's Facebook announced plans to temporarily allow posts calling for violence against Russian invading forces. YouTube also took action, as the Associated Press reported, by blocking all Russian-funded media hosted on the site.