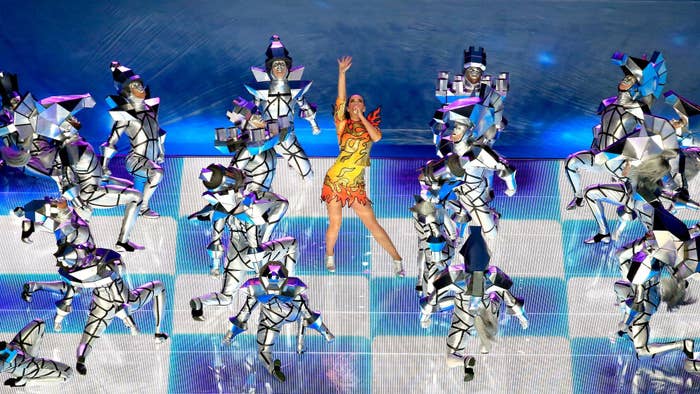 Dancers across the industry are calling out the Super Bowl Halftime Show over alleged requests for dancers to put in 72 working hours as unpaid volunteers, to be involved with this year's show.
An email, shared by dancer and activist Taja Riley, suggests that dancers were being asked to "volunteer for free" as field performers at the upcoming Feb. 13 performance at SoFi Stadium. The Instagram post from Riley includes alleged screenshots of requests from a Super Bowl coordinator to professional dancers, via dance agency Bloc LA, as well as a text from another dancer involved looking for "predominantly African American movers" who would be doing "very little dance." Other notable names like Alyson Stoner and Heather Morris have spoke out about the alleged emails. 
"This is way bigger than the Super Bowl," Riley, who has been part of other halftime performances, said to the Los Angeles Times. "This is another example of the systemic problem in the dance industry where we feel we are being bullied to pony up [by participating for exposure only] or face being blacklisted if we speak out."
Roc Nation, which is executive producing the show, shared in a response to Page Six that the show will include "professional dancers" and "volunteer-based non-choreographed field cast," with the 115 dancers involved being compensated. The company shared that nobody with the show has issued call-outs for professional dancers to work as volunteers. 
"As Executive Producers of the Halftime Show, we know firsthand the level of passion, talent, creativity, and long days of preparation it takes to pull off a performance of this caliber and so it's important that we address the current narrative," Roc Nation wrote. "We completely agree that all dancers should be compensated for their craft and that is why we are employing the 115 professional dancers performing alongside the headliners. The professional dancers are completely separate from the volunteer-based, non-choreographed field cast. As in years past, it is completely up to the volunteer candidates to participate. No one working with this show contacted an agency to request professional dancers to volunteer. Lastly, we strictly follow and adhere to all SAG-AFTRA guidelines."
The event—featuring Dr. Dre, Eminem, Mary J. Blige, Snoop Dogg, and Kendrick Lamar—will feature "the most ever" halftime dancers hired, per choreographer Fatima Robinson. But Page Six reports that the number doesn't account for the on-field volunteers, who are being asked to attend mandatory rehearsals for up to nine hours a day without provided transportation, according to alleged screenshots shared by the publication. 
Robinson told the Times that she is represented by Bloc, which she says put out the call to see if any clients knew people who would want to volunteer. She added that the 400 field cast volunteers would be there "to fill up the space and bring energy to the performers who are performing on the stage that we designed." Casting manager Kristen Terry claimed the phrase "African American movers" was not part of the official casting call, adding that 72 hours of rehersal time was because those involved "need to feel comfortable."
"We're not asking dancers to work as dancers for free," Robinson said. "What was asked is, 'Would anyone like to volunteer for the field cast?'"
Sancer Melany Centeno told Page Six  that unpaid volunteers, as well as paid dancers, have been asked to do the same amount of work for large-scale events in the past, citing Kanye West's Sunday Service set at Coachella. 
"It's just like, you guys want to go into the antics about this, and try to find some type of loophole to justify what this is. But this is, at the root, exploitation," she said. "It's coming to light that in the past when the Super Bowl has done this, that these [field] people end up dancing… I think in general the dance industry has just come to this place where we're just sick and tired of a lot of this," Centeno said. "Because it's not just people asking us to dance for free — it's also these rates [for dancers] haven't changed in 20 years."