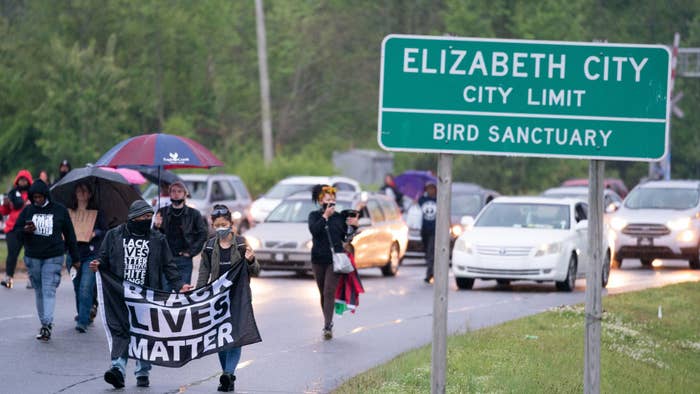 UPDATED 4/28, 4:25 p.m. ET: On Wednesday a judge in North Carolina made a ruling that footage will not be made public from four law enforcement body cameras depicting Andrew Brown Jr.'s death in a police shooting. A media coalition had petitioned for the footage to be released, as did the Pasquotank County sheriff. Brown's family, however, will be granted viewing access once identifying information about the deputies has been blurred. Previously they were only shown 20 seconds of the fatal April 21 incident.
"The judge indicated that he may rule to release the video to the family at a later time, meaning [the family] would have full access to the video," CNN writes.
District Attorney Andrew Womble, whose description of the footage is detailed in CNN's report, criticized Chantel Cherry-Lassiter—one of the attorneys the Brown family is working with—for sharing an interpretation that was supposedly untruthful and "designed to prejudice a proceeding." After the family was shown 20 seconds of footage, Cherry-Lassiter called the killing an "execution" that involved the cops firing at Andrew Brown Jr. while his hands were on his steering wheel. Brown family lawyer Wayne Kendall also said, among other remarks detailed below, that police "did nothing but a straight-out execution by shooting [Brown Jr.] in the back of his head as he was trying to get away in a moving vehicle."
UPDATED 4/28, 2:09 p.m. ET: The FBI Charlotte Field Office has now opened a federal civil rights investigation into the police killing of Andrew Brown Jr.
In a statement to regional outlet WTKR on Tuesday, an FBI spokesperson said agents will be working closely with the U.S. Attorney's Office for the Eastern District of North Carolina and the Civil Rights Division at the DOJ "to determine whether federal laws were violated" during the shooting.
UPDATED 4/27, 11:50 a.m. ET: Legal representation for Andrew Brown Jr.'s family shared the results of an independent autopsy on Tuesday morning. The autopsy showed the 42-year-old Brown was shot in the back of the head in addition to being shot four other times.
Attorney Wayne Kendall in a press conference criticized "law enforcement officers who we believe did nothing but a straight-out execution by shooting [Brown Jr.] in the back of his head as he was trying to get away in a moving vehicle, which no doubt is also against police practice, to shoot into a moving vehicle to a person who posed no threat whatsoever to the officers then and there, on the scene."
Local news reported there were shouts of "arrest them!" from the gathered crowd:
Gwen Carr—mother of Eric Garner, who lost his life to police brutality in 2014 when officer Daniel Pantaleo put him in a fatal chokehold—was also at the press conference to speak out against police killings and the trauma families endure as a result:
See original story below.
Days after Andrew Brown Jr. was fatally shot by police Wednesday in North Carolina, his family has now seen the 20-second clip of police body camera footage from the shooting. 
Pasquotank County sheriff's deputies attempted to serve Brown, age 42, with an arrest warrant in Elizabeth City before the shooting, the sheriff's office said. Few details have emerged regarding the incident. After the shooting, many have peacefully protested in the city to call for the footage's release, as did North Carolina officials. 
Brown's family saw the footage Monday after certain portions of it had been redacted, with lawyer Ben Crump asking, "What is on the video that is so damning?" 
Pasquotank County Attorney Michael Cox said in a statement that "the law also allows us to blur some faces on the video and that process takes time."
"This may be done when necessary to protect an active internal investigation," Cox said. "As soon as these redactions are complete, we will allow the family to view this footage."
As onlookers chanted "we can't breathe" after the Elizabeth City, North Carolina mayor Bettie J. Parker issued a state of emergency, Brown's family members were brought in to view the footage. A family lawyer then said that Brown was shot multiples times while his hands were on the steering wheel in the video and that he was trying to evade being shot by law enforcement, still being shot as he crashed into a tree, according to Tim Pulliam of ABC 11. The Associated Press also reported he was shot in the back of the head, according to the lawyer.
A press conference will reportedly be held Tuesday at 11 a.m., as Brown's family will release findings from an independent autopsy report.