Here's a Breakdown of What's Being Impacted by the Partial Government Shutdown
From the TSA to the FDA to NASA, government agencies, federal workers, and many more people are starting to feel the effects of the government shutdown.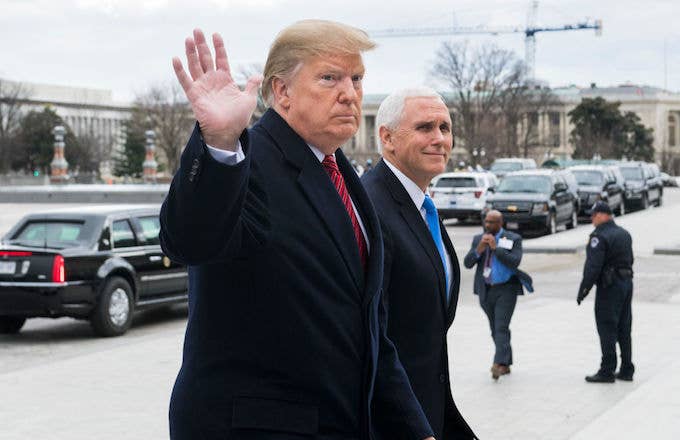 Getty
Image via Getty/Tom Williams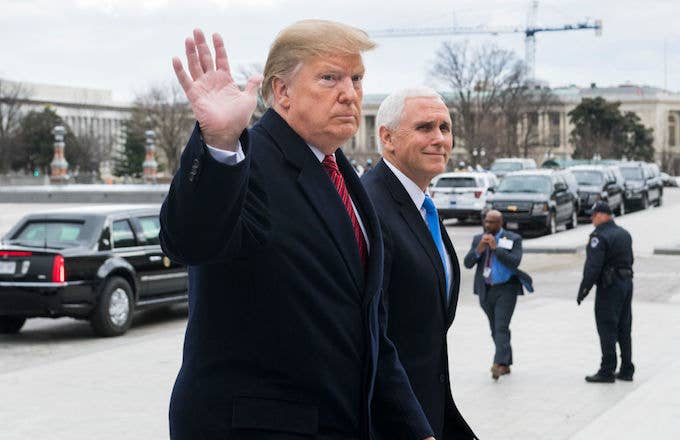 You may not be feeling the effects of the partial government shutdown yet, but the many federal workers waiting for their paychecks already are. With no end in sight, soon everyone else could also see the impact a prolonged shutdown has on everyday life.
The shutdown is days away from being the longest in history, per CNN, and after a heated meeting between House Democrats and Donald Trump on Wednesday, there's little hope for a resolution. The shutdown is beginning to endanger important government programs, put airline safety at risk, and there's a good chance your tax return isn't coming anytime soon, sorry.
Here's a list of some of the many things being hampered by the government shutdown for the sake of Trump's $5 billion, symbolic border wall.
People Aren't Getting Paid
Arguable the root of the shutdown problem is that 800,000 federal workers are going unpaid until it ends. This is severely slowing or halting many government agencies and functions. On Friday, the first payday since the shutdown, workers began receiving their pay stubs with a zero balance. 
FDA Food Inspections Suspended
Try to avoid any risky looking meats as the shutdown continues. According to The Hill, the Food and Drug Administration is one of the many agencies impacted by a dwindling, unpaid workforce. As a result, it has suspended all routine domestic food facility inspections.
FDA Commissioner Scott Gottlieb told The Washington Post he's trying to keep enough workers around to maintain "high-risk facilities" that handle seafood and cheese. This suspension could pose a huge risk to consumers. The FDA screens for contamination and bug infestations, and it's definitely one of those things we take for granted that could easily damage public health.
TSA and Airport Security
Last week news outlets began reporting about TSA workers calling in sick, since they're currently being forced to work without pay. In an internal email this week, a deputy federal security director said the absences have "adversely impacted security operations" in southern California.
Unions continue to call out the potential safety risks of the declining number of TSA personnel, and now the TSA seems to be acknowledging the potential impact as well. "The loss of officers, while we're already shorthanded, will create a massive security risk for American travelers since we don't have enough trainees in the pipeline or the ability to process new hires," Hydrick Thomas, head of the American Federation of Government Employees' TSA Council, said in a statement Tuesday.
TL;DR there might not be enough TSA officers to ensure our airports are safe. On top of that, a lot of the workers who inspect planes and make sure they are safe for air travel are also calling in sick. 
National Park and Museum Closures
While some national parks closed at the beginning of the shutdown, others remain open with very few staff to help with facilitate regular operations. According to the New York Times, Joshua Tree National Park was initially opened, but was later forced to close as the staff struggled to protect the trees from visitors. At other parks poop is piling up.
On a more serious note, park safety is being scrutinized following several deaths at national parks in the 20 days since the shutdown. While CNN warns against drawing direct connections between the deaths and the government shutdown, the investigation into one of the deaths—a man who fell into a river at Yosemite—is being delayed because of the shutdown.
National museums, including all 19 Smithsonian museums, the National Zoo, and the National Gallery of Art are also closed.
Law Enforcement and Federal Courts
Some of the federal employees being forced to work without pay include law enforcement workers at the FBI, the Drug Enforcement Administration, the Bureau of Prisons, the Coast Guard, the Secret Service, and, ridiculously enough, Customs and Border Protection. 
This entire shutdown is Trump's attempt to bully legislators into approving his border wall. He argues for the billion-dollar fence by claiming border security is a national emergency, and yet the shutdown actually backlogs immigration cases and forces those working at the border to go unpaid.
Per the New York Times, the shutdown also slows an already glacial criminal justice system and federal court proceedings. Fortunately the shutdown has had no impact on Robert Mueller's investigation into Trump. 
The IRS and Your Taxes
Most of the operations at the Internal Revenue Service have come to a halt as the shutdown continues. The Wall Street Journal reported last week that the IRS generally does not pay refunds during a shutdown or answer questions about filing. Tax season always sucks, but now it'll suck even more as pressing questions go unanswered and returns go, well, unreturned.
NASA, Contract Workers, and Everything Else
It's hard to list every single agency impacted by the shutdown. They include NASA, the Environmental Protection Agency, and many more. Overall, there are 800,000 federal workers dealing with the government shutdown, but there are other workers contracted and paid by the government who can't expect furlough or back pay. Not only are they going unpaid during the shutdown, but they won't be compensated in the future for the missed time like other federal employees.  
This include contract workers for NASA, as the Orlando Sentinel reports, who do things like fix power grids or run safety checks. There are about 1,200 people at the Kennedy Space Center who can't work, many of them worried about paying their bills, their health insurance status, and depleting whatever savings they have.
And there are reportedly millions of others who are employed by the government through federal contracts that are not being paid. "We've got a very large federal workforce with a majority of employees who are not on Uncle Sam's direct payroll," workforce expert Paul Light told NPR. "They will not get paid for this unpaid vacation, and I'm not sure how they'll recover if this shutdown continues much longer."