Partial Government Shutdown Reportedly Impacting California TSA Operations
As the government shutdown stretches into its third week, TSA officials are beginning to acknowledge its possible impact on airport security.
Getty
Image via Getty/Mark RALSTON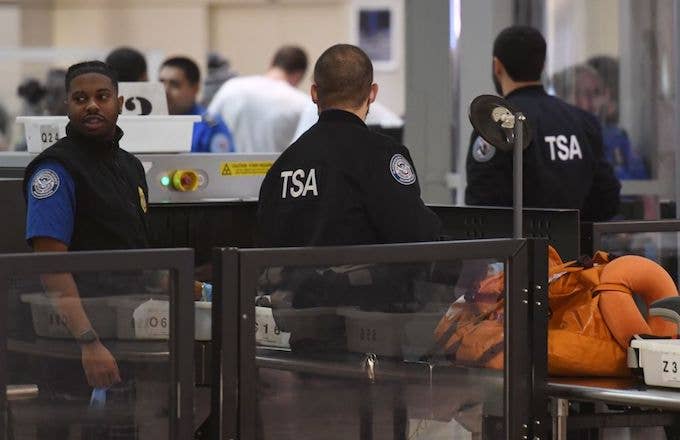 We've got a lot of shit to worry about.
The partial government shutdown might not be affecting you directly, yet, but so far it's caused poop to pile up at national parks, hampered programs helping women/children/poor folks, forced low wage federal workers to struggle or get new jobs entirely, and it's compromising airport security.
Last week, the TSAmade headlines as hundreds of employees reportedly called out sick, because the security screeners were being forced to work without pay. CNN is now reporting that the absences have "adversely impacted security operations" in Southern California, according to a deputy federal security director overseeing five airports.
In an email CNN obtained, TSA official Martin Elam acknowledged the shutdown's impact on safety at Palm Springs International Airport. Not only are workers calling in sick, but The Daily Beast reports many of them are now simply quitting. Unions have already called out the potential safety risks of the declining number of TSA personnel, but this email from Elam marks the first internal acknowledgement that security operations are being impacted.
"The loss of officers, while we're already shorthanded, will create a massive security risk for American travelers since we don't have enough trainees in the pipeline or the ability to process new hires," Hydrick Thomas, head of the American Federation of Government Employees' TSA Council, said in a statement Tuesday. "Our TSOs already do an amazing job without the proper staffing levels, but if this keeps up there are problems that will arise—least of which would be increased wait times for travelers."
The issues at Palm Springs present a microcosm of the larger impact the shutdown is having on TSA. Workers are being warned of disciplinary action for missed shifts, even though they are not receiving a paycheck.
"Due to excessive unscheduled absences recently experienced at PSP (Palm Springs International airport) that has adversely impacted security operations, if you have an unscheduled absence, you will NOT be placed in an intermittent furlough status," Elam wrote in the email to Palm Springs TSA employees. "Your unauthorized unscheduled absence will be coded by payroll as absent without leave (AWOL). At the conclusion of the government shutdown, an employee's AWOL status may result in progressive disciplinary action."
Bottom line, the shutdown is affecting TSA workers, who can no longer make rent or pay for childcare, but also "will definitely affect the flying public," according to Thomas.
But sure, Donald Trump, go off about your wall or whatever.