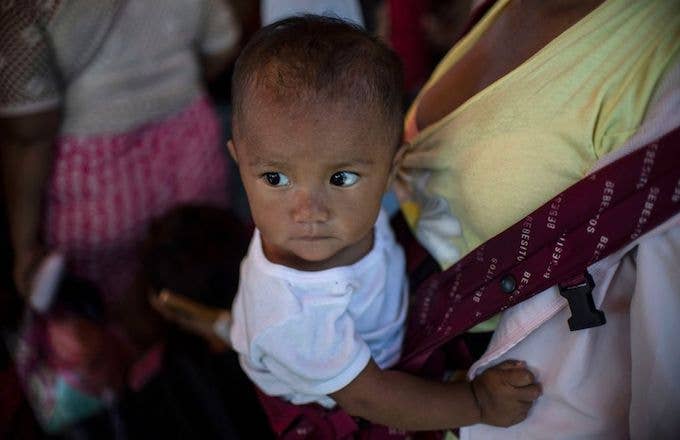 Last week, a large group of more than 3,000 people from Central America crossed the border into Mexico on their way to the U.S. The group comprised mostly of Hondurans and some Guatemalans are seeking asylum for a number of reasons, including increasing gang violence and reuniting with children they've been separated from still living in the States.
On Thursday, Donald Trump tweeted that he would be putting military personnel along the U.S.-Mexico border to somehow help halt the hungry and tired travelers.
"Brandon Judd of the National Border Patrol Council is right when he says on @foxandfriends that the Democrat inspired laws make it tough for us to stop people at the Border," Trump tweeted. "MUST BE CHANDED [sic], but I am bringing out the military for this National Emergency. They will be stopped!"
He threatened to send the military to the border last week, so this move comes as no surprise. According to ABC, he could be sending anywhere from 800 to 1,000 troops. Defense Secretary James Mattis is reportedly signing an order that would deploy the active duty troops to the southern border.
"I must, in the strongest of terms, ask Mexico to stop this onslaught — and if unable to do so I will call up the U.S. Military and CLOSE OUR SOUTHERN BORDER!" Trump tweeted.
People seeking asylum in other countries with or without legal documents are protected by international law, however the Trump administration, as we've seen, has built a reputation of not withholding that right, while also separating families. According to Vox, the U.S. asked Mexico to clear out the migrants, but Mexico decided not to deport the caravan back home.
The active duty will reportedly not be acting as law enforcement like the border patrol, but working to provide "logistical support." In other words, the troops should not be engaging with the people attempting to seek asylum, but we'll have to wait and see what happens.
"But wait until you see what happens over the next couple of weeks," Trump told his supporters at a rally in Wisconsin on Wednesday. "You're going to see a very secure border. You just watch. Just watch. Very secure. And the military is ready. They're all set. They're all set."