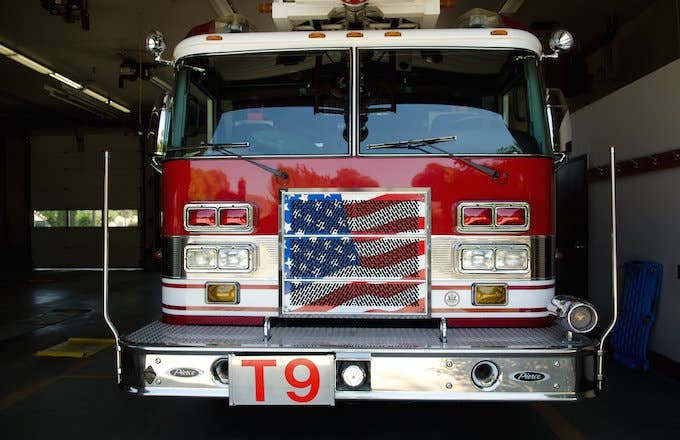 There must be something racist in the Bay Area water supply. Just days after a white woman in San Francisco called the police on an 8-year-old girl selling water, news broke that Oakland residents called the cops on a black firefighter doing his damn job.
According to the San Francisco Chronicle, firefighter Kevin Moore was conducting annual, city-mandated inspections around homes in Oakland last month when one resident called the police. Another local decided to question and film Moore, who was wearing his full firefighter uniform and had his fire truck parked on site.
"I try to put myself in other people's shoes, like if I see someone in my yard, I'd ask what they're doing," Moore told the Chronicle. "That's why I always call out, 'Hello! Hello! Oakland Fire Department!' Because I want to be heard. I just don't want somebody to look out their window and see somebody in their backyard. I'm not trying to be incognito."
Moore's colleague, firefighter Megan Bryan, heard the 911 dispatch on May 16. "I knew that he was the one on that street," Bryan told the Chronicle. Bryan said no one had ever called the police on her or any of their white coworkers conducting inspections.
Vince Crudele, who supervises the inspection program, that day received home security camera footage of Moore. "It's obvious he's doing an inspection. Kevin's wearing his blue wool firefighter pants, he's got a radio and (a department) jacket and shirt on," Crudele said. "It's unfortunate that somebody would mistake an Oakland firefighter, a professional who would go into harm's way every day to protect citizens, as someone who was there for criminal intent."
And on Monday, Moore had another troubling encounter with a resident while conducting an inspection. "He kind of startled me," Moore said. "He says, 'Well, what are you doing here?' I say, 'We're here doing our annual vegetation inspection.' Then he asks for ID. I say no problem. He takes a picture of my ID and says I need to get a different one. I've had that ID for years. It's kind of dark, and I'm more of a dark-skinned black guy, but you can still see me."
Eventually Moore, who was honored for "bravery and heroism" by city council in 2008, convinced the resident he was just doing his job. Firefighters do inspections every year to check for safety hazards that could lead to the spread of wildfires. Regardless of if residents are home or not, the firefighters are mandated, by law, to inspect the exterior of residents' property per the California fire code.
Being black shouldn't have any impact on how firefighters conduct this work, but unfortunately it does. Some white people continue to feel threatened by people of color doing regular, everyday things like sitting in a Starbucks, taking a nap, leaving their Airbnb, touring a college, having a cookout, or simply doing their job. 
In response to Moore's recent trouble with affluent locals, Bryan plans to assist her colleague on future inspections. "It's our work to do with other white people, to check our implicit biases and racism," she said. "It's not fair to him, and it's actually not safe for him to be going into these backyards due to the sociopolitical climate."