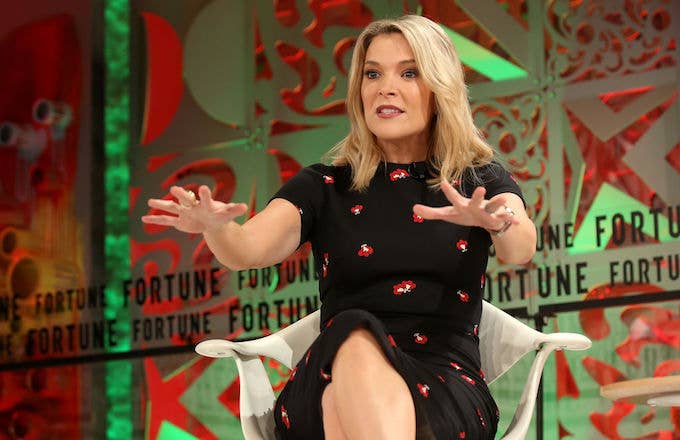 Updated 10/23/18 4:33 ET: 
After making terrible comments about blackface during her show Tuesday morning, Megyn Kelly has sent out an apology email to her coworkers at NBC. According to The Hollywood Reporter, Kelly wrote "I realize now that such behavior is indeed wrong, and I am sorry. The history of blackface in our culture is abhorrent; the wounds too deep."
"I've never been a 'pc' kind of person -- but I understand that we do need to be more sensitive in this day and age," she continued at the end of email. "Particularly on race and ethnicity issues which, far from being healed, have been exacerbated in our politics over the past year. This is a time for more understanding, love, sensitivity and honor, and I want to be part of that. I look forward to continuing that discussion."
Read the original story below: 
Megyn Kelly is asking the tough questions. The questions that come up every. single. Halloween. The questions white racist people really need answers to like, what's the deal with blackface?
"But what is racist?" Kelly mused on Tuesday, during a panel of only white people on her talk show. "You truly do get in trouble if you are a white person who puts on blackface at Halloween or a black person who puts on whiteface for Halloween."
Watch it for yourself below, if you're feeling inclined to take on rage on this Tuesday afternoon. 
She was defending Real Housewives of New York City's Luann de Lesseps, who wore blackface while dressing up as the living and breathing icon Diana Ross. Despite what Kelly argues, it's not flattering. It's not paying homage to your favorite athlete, movie star, or singer. Blackface is not! a! costume! It's racist and offensive, with a long and dark history behind it. Minstrelsy is and continues to be as horrifying as it was hundreds of years ago.
Unsurprisingly, Kelly hasn't read any articles, thinkpieces, watched the news. It's questionable whether she knows a single black person to ask about this topic.
"Back when I was a kid, that was OK, as long as you were dressing up as like a character," Kelly continued, which begs the question: when and where the hell did Megyn Kelly grow up??
Even George W. Bush's daughter Jenna Bush Hager said she also thought Lesseps' costume sounded racist. Because it is! Anyway, the good people of Twitter had something to say about Kelly's willful ignorance, so check out those valid and important reactions below.