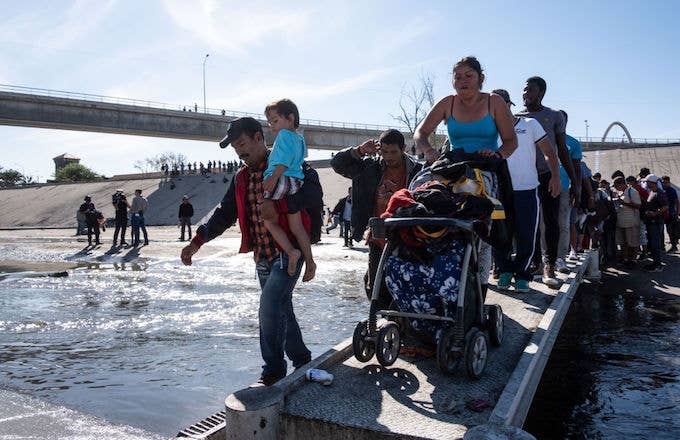 On Sunday, images of migrants at the border being shot at by U.S. border patrol agents and military with tear gas circulated online. One disturbing photo of a mother pulling her barefoot children away from a cloud of gas quickly spread on social media, drawing widespread outrage.
But where some see a humanitarian crisis, others are trying to downplay the severity of the monstrous treatment of their fellow human beings. Border Patrol Foundation president Ron Colburn went on Fox News to defend the use of tear gas on Central Americans trying to cross the U.S. border. Colburn argued that the gas is comprised of pepper and water, and is therefore "natural" enough to "put it on your nachos and eat it," he argued.
In the clip, Colburn failed to mention whether or not he would use such a "natural" deterrent on himself or his own children, though I think we already know the answer to that.
The use of tear gas began Sunday at the San Ysidro border crossing. Soon after the photos circulated, people began chastising the Trump administration its methods, which is banned in warfare when used on children.
"These children are barefoot. In diapers. Choking on tear gas," Gavin Newsom, the Democratic governor-elect of California, tweeted. "Women and children who left their lives behind — seeking peace and asylum — were met with violence and fear. That's not my America. We're a land of refuge. Of hope. Of freedom. And we will not stand for this."
Despite the backlash, Trump tweeted this morning, threatening to close the border permanently, something not expressly within his power to do, according to the Washington Post.