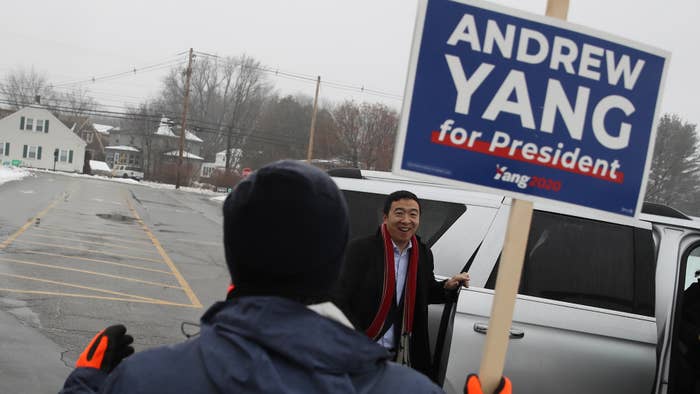 After a disappointing showing in the chaotic Iowa caucus, Andrew Yang announced on Tuesday night that he's decided to drop out of the Democratic presidential race.
The announcement arrived just as the results for the New Hampshire primary began to come in. "I am the math guy, and it's clear from the numbers we're not going to win this campaign," Yang said while in Manchester, N.H. "So tonight I'm announcing that I am suspending my campaign."
I am so proud of this campaign. Thank you to everyone who got us here. 🙏
Yang was most well known for his plans of a universal basic income and pledging to give Americans $1,000 a month if elected. Throughout his campaign, Yang was able to pick up support from celebrities such as Dave Chappelle and Donald Glover. The latter signed on to become a creative consultant for the Yang campaign and even went on to release some merch at a pop up event that was held in Los Angeles. 
Democratic presidential candidates such as Vermont senator Bernie Sanders and Massachusetts senator Elizabeth Warren took to Twitter to respond to the news with well wishes. 
Thank you

@AndrewYang

for running an issue-focused campaign and working to bring new voters into the political process. I look forward to working together to defeat the corruption and bigotry of Donald Trump.